Last Updated on March 26, 2022 2:41 pm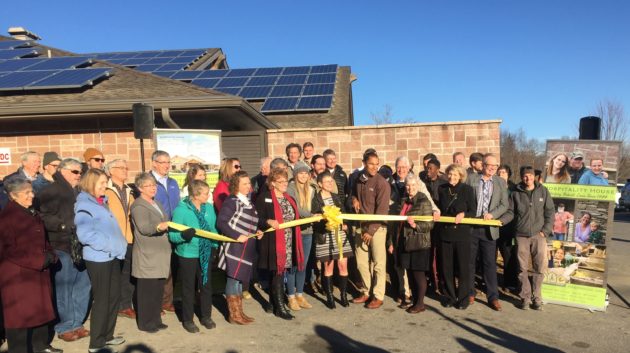 BOONE, N.C. – Giving Tuesday marked a major milestone for Hospitality House, the regional nonprofit homeless services agency based in Boone, N.C., as it unveiled its latest solar project. A ribbon cutting ceremony for a fifty-four panel photovoltaic solar energy system was held at 8:00 a.m. with many local community leaders in attendance.
"This is the perfect marriage of the nonprofit community, university community and business community," said Hospitality House director of development Todd Carter as he opened the ceremony.  "In addition to respect, dignity, compassion and integrity, our core values include the sustainability of live, community and environment; as well as, being an innovative leader in our community. We are proud to stand here today celebrating those values."

On hand for the ribbon cutting were Appalachian State University Chancellor Sheri Everts and Vice Chancellor Hank Foreman, Boone Mayor Rennie Brantz, Boone Town Council members Lynne Mason, Loretta Clawson and Quint David, Watauga County Commissioners John Welch and Billy Kennedy; Boone Chamber president David Jackson and director of public relations Wysteria White; along with representatives from Blue Ridge Energy, United Solar Initiative (USI), Appalachian and the Community Together (ACT), Sunvolt Renewable Energy, Appalachian State Student Government Association and Appalachian State Renewable Energy Initiative (REI).
Spearheading the project was Hospitality House facilities manager Jordan Duke. "This project is so special to me because of all the help I received along the way," said Duke speaking to the crowd.  "This community building serves so many people and relies heavily on your support. With this solar project you will be continually supporting us for the next half century."
This system installation represents phase two of the Hospitality House Solar Initiative, with phase one, a solar thermal system for hot water, being completed in 2013. According to Carter, Hospitality House has only been able to identify a handful of homeless facilities across the nation with solar power, and none that utilize both solar thermal and photovoltaic systems.
For phase two, Hospitality House partnered with United Solar Initiative (USI), a nonprofit solar energy business based in Chapel Hill. USI raised eighty percent of the total cost for the project through gifts and grants from Chapel Hill's Strata Solar, Enterprise Rent-A-Car, Depcom Power, out of Arizona and City Electric Supplies in Shelby, N.C.
As he pulled a light bulb from his pocket, USI project manager Zach Sprau relayed that the system creates a maximum of 13 kilowatts of electricity at a time, enough to power 1,300 ten watt LED lightbulbs.
The remaining twenty percent of the project was funded by a renewable energy grant from Appalachian State students and the ACT initiatives "Don't Throw It Away" and "The BIG Sale."
"We should see a savings of around twenty percent each month on our electric bill," stated Hospitality House executive director Tina B. Krause. "That translates to twenty-one extra people being able to come in and access food, counseling and shelter each month. Additionally, the people we serve are some of the most resourceful people I've ever met, folks who know how to make a dollar stretch. It is important for us to follow their example and be the best stewards possible of our funds."
Hospitality House has challenged the community to double the renewable energy grant from ACT to help raise an additional $5000 – $6000 to expand the solar roof and food pantry. Anyone wishing to take part in this challenge can visit HospHouse.org/givingtuesday.
For additional information or questions, email Carter at todd@hosphouse.org or call 828.264.1237 ext. 6.
To learn more about the mission of Hospitality House please visit HospHouse.org, like them on Facebook Facebook.com/HospHouse and follow them on Twitter @HospHouseBoone.