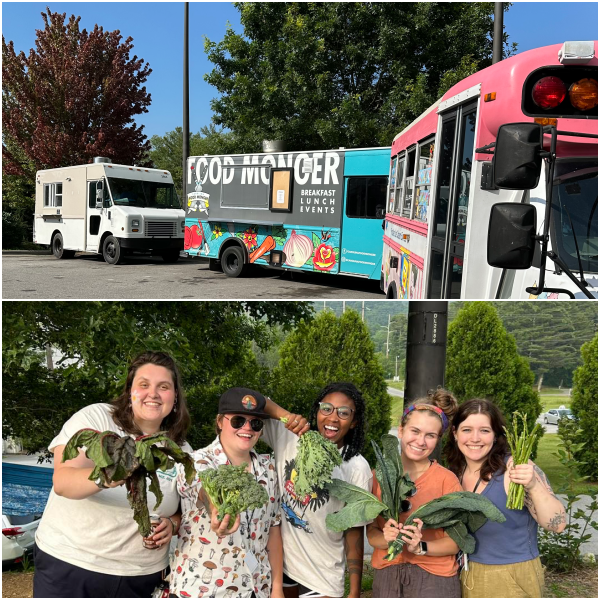 Last Updated on August 28, 2023 12:29 pm
BOONE, NC – AUGUST 22, 2023: Hospitality House is excited to announce the third in a four-part "Savor the Summer" Food Truck Rodeo series, fun-filled community events featuring multiple food trucks, local food prepared in their Community Kitchen, games, activities, and a free farmers market featuring produce from their organic gardens. The event, and everything in it, is completely free and will take place on Thursday, August 31st in the upper parking lot of 338 Brook Hollow Road from 5:30 – 7:30 p.m.
Food trucks lined up for this event are Valencia Flavors Venezuelan Empanadas, Kristin's Hook'd on Smoke BBQ, Frosties Ice Cream and Cotton Candy and Ben & Jerry's. This month's "Savor the Summer" event marks the third one so far with the June and July events featuring Carolina Food Monger, Little Wing Ice Cream, Valencia Flavors, and Frosties Ice Cream Express.
"Savor the Summer" aims to bring the Brook Hollow and East Boone communities together for a day of celebration and enjoyment. The events showcase a wide range of activities suitable for all ages. Attendees can look forward to engaging in lively games and participating in various hands-on activities that embody the spirit of summer. The highlights are undoubtedly the various food trucks.
"I couldn't be more thrilled about our 'Savor the Summer,' community events," states Aaren Grant, Hospitality House Local Food Coordinator. "It brings me immense joy to lead this initiative, uniting our community for four incredible evenings filled with delicious food, friendly company, and the alluring essence of summer. I firmly believe in the power of community, and through this initiative, we aim to create moments of connection, understanding, and unwavering support for each other."
"Savor the Summer" is made possible through the generous support of a pass-through grant from Second Harvest Food Bank, allowing Hospitality House to provide this unique opportunity and financially support these small local businesses.
Hospitality House Chief Development Director explains, "Having the grant funds to host 'Savor the Summer' means that I don't have to ask for an in-kind gift from these hardworking food vendors who add so much character and value to the High Country. I love that we are able to pay full price for the food truck offerings and our event patrons get to order anything they want and it's all free to them."
Adds Grant, ""Savor the Summer" goes beyond nourishing our bodies; it's about nourishing our community and these evenings are made even more special by our guest vendors. Their dedication to serving our clients and the community is truly inspiring, and I am immensely grateful for their contributions."
Anyone in need of additional information is encouraged to email Carter at todd@hosphouse.org. For the latest updates and to learn more about Hospitality House of Northwest N.C. visit www.HospHouse.org and follow them on Facebook, Instagram and TikTok: @hosphouse and Twitter @HospHouseNWNC.

(pictured left: Valencia Flavors, Carolina Food Monger, Frosties Ice Cream Express; pictured right: Hospitality House staff Tori Rodriquez, Aaren Grant, Lexi White, Sam Workowski and Emily Lowe.)