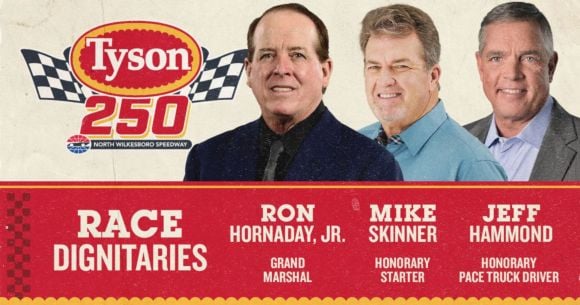 Last Updated on April 27, 2023 11:08 am
NORTH WILKESBORO, N.C. (April 27, 2023) – Ron Hornaday Jr. and Mike Skinner, two of the most notable drivers in the history of the NASCAR CRAFTSMAN Truck Series, will join legendary Cup Series crew chief Jeff Hammond as dignitaries for the May 20 Tyson 250 Truck Series race. The Tyson 250 will be the feature event on Saturday of All-Star Race weekend as NASCAR returns to one of its original tracks May 19-21, during the 75th anniversary season of the sport.
Hornaday, a NASCAR Hall of Fame inductee and four-time CRAFTSMAN Truck Series champion, finished fifth in the inaugural Tyson 250 – then a 150-lap event – in 1995. The 51-time Truck Series race winner was named one of NASCAR's 75 Greatest Drivers this week. He will spend his return to North Wilkesboro as the Grand Marshal, giving the command to start engines before the Truck Series' first race at North Wilkesboro in nearly 27 years.
Skinner won the first Truck Series championship in 1995, and was the pole winner for the Tyson 250 the same year. Instead of returning to the cockpit this year, the driver who earned the nickname "The Gun Slinger" will work from the flag stand – where he'll wave the green flag to begin the event.
Known for his exploits as an innovative crew chief and jackman – and, later, a Truck Series race-winning team owner – Hammond traces his North Wilkesboro roots further back than most anyone visiting the iconic track in May. The two-time NASCAR Cup Series title-winning crew chief worked nearby for Junior Johnson's race team through the mid-1980s, before following driver – and future NASCAR on FOX broadcasting partner – Darrell Waltrip to Hendrick Motorsports. Hammond's race-day duties at North Wilkesboro will see his driving skills put to the test, as the Honorary Chevrolet Silverado Pace Truck Driver.
"Ron, Mike and Jeff played such a big part in building the NASCAR CRAFTSMAN Truck Series, and it's an honor for us to have them recognized as our dignitaries for the Tyson 250," said NASCAR All-Star Race Executive Director Jessica Fickenscher. "We're seeing such a passion from NASCAR legends about returning to North Wilkesboro, and we look forward to bringing an entirely new generation to this historic race track in May for all of our All-Star Race week activities."
TICKETS:
NASCAR All-Star Race weekend ticket packages for all Friday/Saturday/Sunday activities, including NASCAR Cup and CRAFTSMAN Truck Series practice and qualifying sessions the Pit Crew Challenge; Midland, Chase Rice and Dierks Bentley concerts; NASCAR All-Star Open; NASCAR All-Star Race and Tyson 250 CRAFTSMAN Truck Series race are on sale.
Single-day tickets for All-Star Friday presented by Raymer Oil – featuring the All-Star Race Pit Crew Challenge on May 20, and the Tyson 250 and All-Star Race heat races on May 21, are also on sale. Tickets can be purchased online at www.northwilkesborospeedway.com. Single-day tickets are also on sale for the ASA Stars National Tour ECMD 150 on May 16, and the May 17 Solid Rock Carriers CARS Tour doubleheader featuring the Crossroads Harley-Davidson 75 and the Window World 125.
ON-AIR:
The Tyson 250 will be aired live at 1:30 p.m. ET, May 20, on FOX. Fans can listen to the race live on MRN Radio or SiriusXM NASCAR.
PROMOTION:
Fans are encouraged to sign up for a chance to win the More to Win, More to Love Tyson® Sweepstakes. Take a trip down memory lane at legendary North Wilkesboro and get a taste of Victory Lane with a once-in-a-lifetime All-Star Experience at North Wilkesboro Speedway.
All-Star Experience for two (2) includes:
$4,000 for Winner to use for travel and expenses to North Wilkesboro, North Carolina.
Race weekend parking passes and grandstand tickets for two (2) for Friday, May 19–Sunday, May 21, 2023.
Prize winner gets to work the manual scoreboard for up to 50 laps during the Tyson 250 NASCAR Craftsman Truck Series Race on Saturday, May 20.
Access to the Victory Lane celebration after the Tyson 250 NASCAR CRAFTSMAN Truck Series Race
MORE INFO:
Fans can connect with North Wilkesboro Speedway and get the latest news regarding NASCAR All-Star week and North Wilkesboro Speedway by following on Twitter and Instagram or becoming a Facebook fan.