Last Updated on November 20, 2022 5:34 pm
Several holiday gift drives are underway to help local children, WHS students, and senior citizens. Below is a list of the efforts WataugaOnline.com is aware of as of Tuesday, November 15th, 2022. This list will be updated on other efforts as more information becomes available.
---
Watauga High School Holiday Adoptions. This program usually has 120-150 high school students on its adoption list, according to Jenn Wandler the school social worker at Watauga High.
The goal of the program is to be able to provide each student with $100 worth of gift cards. "We are asking for gift cards to places like TJ Maxx, Shoe Department, Belk, Tanger Outlets, Hobby Lobby, Michaels, Grocery cards, etc." said Wandler. She added, "The gift cards can be in $25 or $50 increments, but we are happy to receive any donation." If people prefer to write a check the money will go towards the gift card purchases. Checks need to be made out to WHS and in the memo please put "Social Work Discretionary Fund-Holiday". Either can be dropped off at the high school, to the attention of Jenn Wandler, or mailed to 300 Go Pioneers Drive, Boone NC 28607. She is asking that all gift cards be turned in by December 2nd.
For more information contact Jenn Wandler at wandlerj@wataugaschools.org or 828-264-2407
---
W.A.M.Y. Community Action is holding its 4th annual Santa for Seniors. This program strives to spread holiday cheer to local senior citizens in assisted living, homebound or in hospice care.
In 2021, WAMY (Watauga, Avery, Mitchell, Yancey) delivered more than 900 holiday gift bags to senior citizens through the Santa for Seniors project. With hopes of exceeding last year's goal, WAMY needs the help of community members more than ever.

Newly purchased Santa for Seniors items that are needed include socks with grips, blankets, lotion, lip balms, slippers, word activity books, sugar-free candy, and winter accessories. Unwrapped gifts can be dropped off now through Dec. 15th Monday-Thursday from 10 am-2 pm at any of the following locations:
Boone Police Department, 1500 Blowing Rock Road, Boone
Go Postal of Boone, 207 New Market Center, Boone
Peak Insurance Group, 149 Jefferson Road, Boone
Watauga County Sheriff's Office, 184 Hodges Gap Rd., Boone
Skyline/Skybest, 217 Wilson Drive, Boone
Avery County Chamber of Commerce, 4501 Tynecastle Hwy. #2, Banner Elk

In addition to many faith organizations, Linville Land Harbor in Avery County and Mountain Air Community in Burnsville are also hosting Santa for Senior gift drives.

Gifts can also be delivered to any WAMY Office location:
225 Birch St., Suite 2, Boone
496 A Balsam Ave., Spruce Pine
723 Cranberry St., in Newland

"WAMY is so happy to see the community coming together to meet a need that is often overlooked," said WAMY's Director of Development Allison Jennings. "Many of our senior citizen neighbors are excluded during the holidays. We are thankful for the outpouring of support we have received this year for our Santa for Seniors gift drive," said Jennings. "In addition to local businesses offering drop-off locations, Mast General Store and the High-Country Council of Governments are donating gifts. WAMY appreciates these gifts of love and kindness during this season of giving," said Jennings.

Boone Police Department, Watauga County Sherriff's Office and WAMY volunteers will deliver Santa for Seniors gifts. If community members do not have time to shop, monetary donations are also be accepted which can be mailed to WAMY's Boone office, 225 Birch St. Suite 2 or visit wamycommunityaction.org.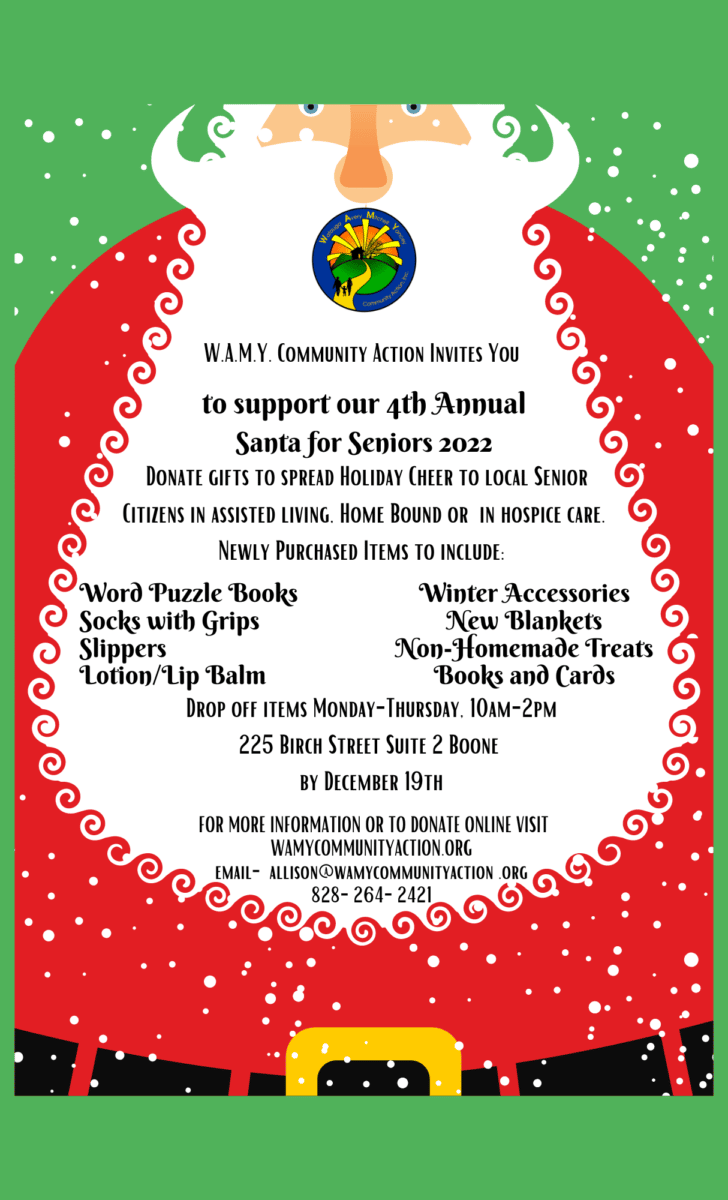 ---
Carolina Mountain Title is once again holding its Christmas Toy Drive. New, unwrapped toys for children ages infant to 18 years old can be dropped off at several area locations until December 12th. The toys and all donations will go to the High Country Caregivers to be distributed, according to event organizer Lyndsay Ennis.
Collection locations are:
Carolina Mountain Title – 1675 Blowing Rock Road, Boone.
Deal Mosley Smith – 870 West King Street, Boone.
Kilby & Hurley – 122 N. Jefferson Ave, West Jefferson
Lifestore Insurance – 151 Cranberry Street, Newland