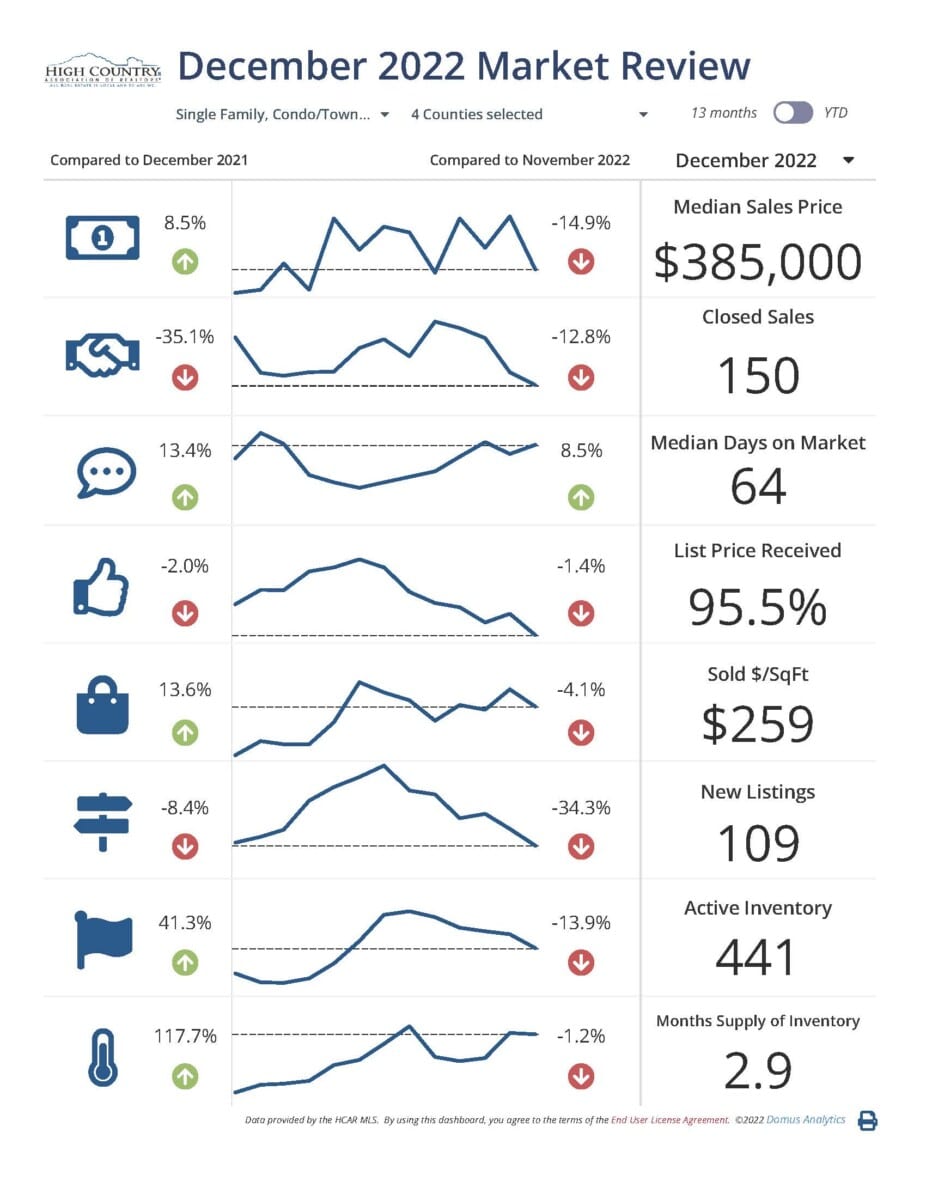 Last Updated on February 14, 2023 6:17 pm
During the month of December, the High Country MLS reported 175 residential home sales totaling $88.2 million. As we would except with limited inventory the number of closed transactions during the month of December was down from December of 2021 when the MLS reported 249 residential sales One thing that is staying steady and even up is the median sales price at $385,000.00 during December of 2022. The median in December of 2021 was $355,000.00. However, December's median home price is down in comparison to previous months of 2022 due to less inventory leading to softening of prices.
REALTORS® in the High Country MLS sold a total of 2,681 residential listings worth $1.38 billion by 2022's year end. During 2022 prices were still increasing but began to decrease a bit late in the year and into January of 2023.

A notable statistic recorded by the Federal Housing Finance Agency stated that in 2021 and into 2022 the increase in house prices accounted for the largest annual home price increase in the history of the agency's house price index.

INTEREST RATES: Currently loan giant Freddie Mac reports the average 30 year fixed rate mortgage at 6.48 percent and a 15 year fixed rate mortgage at 5.73 percent.
INVENTORY: During December in our four county areas of Alleghany, Ashe, Avery, and Watauga Counties, there were 441 active residential listings with 109 of those being new listings coming onto the market during the month. The months' supply of inventory for single family home, and condo/townhome listings was 2.9 months. The median days on market for single family including condominiums and townhomes is 64 days.
LAND. In December, the land inventory was a much larger supply at 1,542 active land listings and eighty-nine of those being new during the month. The months' supply of inventory for land is 18.6 months. The median days on market show 133 days, much larger than the median days for residential listings.
COMMERCIAL. To close out the year, there were three commercial properties sold in December for a combined price of $1.2 million.
ALLEGHANY COUNTY. During the year there were 207 residential home sales in Alleghany totaling $68.8 million. The median sales price was $302,000.00.
ASHE COUNTY There were 484 residential home sales in Ashe County totaling $185.7 million. The median sales price was $335,750.00
AVERY COUNTY. There were 537 residential sales totaling $300.2 million for the year. The median sales price was $361,000.00.
WATAUGA COUNTY There were 1153 residential sales totaling $710.1 million for the year. The median sales price was $500,000.00.

Disclaimer: Figures are based on information from High Country Multiple Listing Service. Data is for informational purposes only and may not be completely accurate due to MLS reporting processes. This data reflects a specific point in time and cannot be used in perpetuity due to the fluctuating nature of markets.

Report graphics generated from Domus Analytics pulled from the HCAR RETS feed. HCAR Realtor® members can access these detailed and customizable reports and graphics for professional use by logging into the HCAR dashboard – Info Hub A public graphic is available on our website homepage at highcountryrealtors.org.