Last Updated on October 2, 2022 5:40 pm
Watauga County came out largely ok after a forecast storm event took a turn to the south this weekend. The system, currently flooding a large section of South Carolina, was initially forecast to bring double digit rainfall totals to the High Country.
Between 7am Thursday to 7am Sunday, Boone officially recorded 5.46 inches of rain. Total rainfall amounts from Thursday September 24 to 7am Sunday October 4 tally 15.06 inches, which accounts for roughly a third of the rain received all year. Through October 2 a total of 46.52 inches had been recorded officially in Boone for the year.
As far as flooding issues, the county as a whole was largely unaffected. The typical flood prone areas did become covered for a time on Saturday. Dewitt Barnett Road bridge in Valle Crucis, near the airport/Kellwood, Moose Lodge/golf course area on Deerfield Road, portions of Roby Greene Road and Watauga River Road were some of the impacted areas, along with the Boone Mall parking lot. Boone Police took proactive measures to block off the mall parking lot around 10am Saturday before waters rose enough to reach flood stage. The first reports of flooding there came in around 11am.
Blue Ridge Electric reported minimal outages in Watauga County, with only 50 members impacted after a tree fell on power lines in Blowing Rock on Saturday morning. There were some scanner dispatches of trees falling across roads, but not to a wide scale degree.
A Wind Advisory remains in effect until 8am Monday morning and with the saturated ground officials warn that power outages are still a possibility. The Watauga Medical Center weather reporting station recorded peak wind gusts of 26 mph on Saturday, and 29 mph on Sunday morning. The National Weather Service says that gusts of up to 45 mph are possible through the Advisory period.
Sunday marked the 11th straight day with measurable rain, but the Weather Service forecast says we could finally see the return of sunshine on Tuesday. There have been no reports of flood or wind damage into the Watauga Roads social media outlets as of Sunday afternoon.
Rainfall totals for Saturday. Watauga County at the red arrow.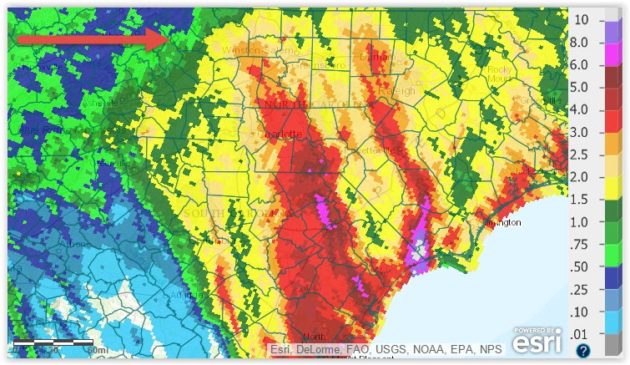 Boone Mall parking lot. Photos: Heather Boone
@WataugaRoads Dewitt Barnett bridge at 11:15 am on Saturday 10/3 pic.twitter.com/YnnbY8kk17

— Adam (@polarursus) October 3, 2015