Last Updated on October 2, 2022 5:20 pm
It's a repeat of last week, a couple of days of rain followed by snow. Here's how forecast are stacking up this time around:
The National Weather Service has issued a Winter Weather Advisory from 4pm Wednesday to 4am Thursday for elevations above 3000 feet. 2 to 4 inches of snow is the accumulation projection, and the possibility of black ice, as a result of all the rain we are continuing to get.
The graphic below, from NWS, also shows the snow projections.
Here's a video briefing from NWS from Tuesday afternoon
Brad Panovich (WCNC-TV, Twitter Facebook passes this NAM snowfall forecast via his facebook page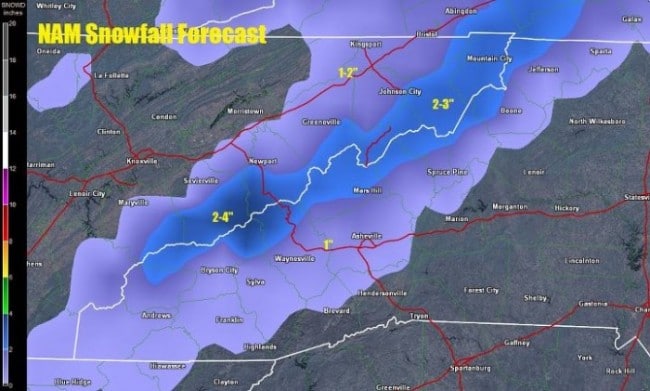 John L'Heureux, of L'Heureux's Weather, posted his forecast on Monday with little to no change in his original thoughts:
Update: the rain/snow line will not be close to the High Country until Wednesday night. This is where it gets very tricky. The cold front WILL make it just east of the Appalachian Mountains (literally, by a few miles) by Wednesday evening. This puts most of everyone in the cold sector (not cold enough for snow, so this will be rainfall). As the evening continues and cooling begins to occur (both through transition to night time and through snow melting above the ground), we will start to see snow mix in with the rainfall.
By Wednesday night, the low pressure starts to mature, and will actually push the cold sector back towards the eastern slopes. Areas farther north and west will be farther from the warm sector and may transition to all snow by Wednesday night. By Wednesday night, most of us will have rainfall mixed with some fat snowflakes (more snow mixed in for areas farther north and west). By early Thursday morning, everyone transitions to a brief burst of wet, fat snowflakes before ending Thursday mid morning. Preliminary totals are listed below but regardless this will make for slushy conditions.
Eastern of the Blue Ridge – Gets short changed with just a dusting to less than 1″. Mostly rain with a few fat snowflakes mixed in at night.
Eastern half of Avery, Watauga, Ashe counties (Boone included) – 1-2″ MAX, rain first with rain/snow mix at night transitioning to all snow
Western half of Avery, Watauga, Ashe Counties, eastern TN – 2-4″ MAX, mostly the lower range of this but with the 4″ amount for northwest Ashe County. Rain through Wednesday evening transitioning to snow/rain mix to all snow late.