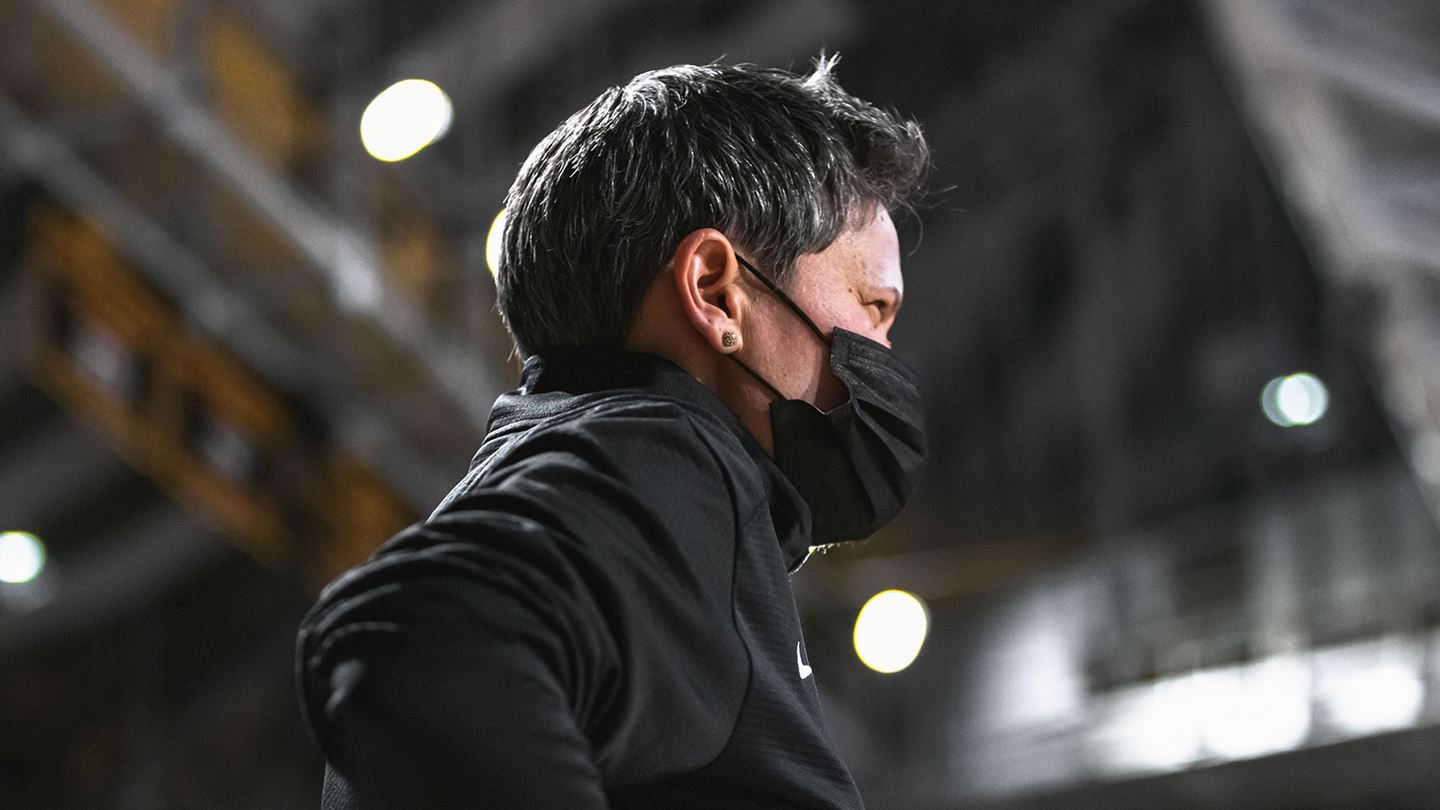 Last Updated on September 25, 2021 4:44 pm
BOONE, N.C. – App State women's basketball head coach Angel Elderkin has agreed to a four-year contract extension through the 2026-27 season, director of athletics Doug Gillin announced Saturday after the contract extension was approved by Chancellor Sheri Everts and the Appalachian State University Board of Trustees.
"I am excited to have Angel continue to lead our women's basketball program," Gillin said. "She continues to be an exceptional representative of our university and athletic program. Angel's focus on the comprehensive excellence of the entire program and the holistic development of our student-athletes aligns with our mission."

Elderkin is the third longest-tenured coach in program history entering her eighth season at the helm following a 15-12 campaign and a 10-8 mark in the Sun Belt. The winning season for the Mountaineers was their second in the past three years. Their Sun Belt mark tied for the best in a season since joining the conference. App State finished the season 7-2 over its last nine games en route to its second Sun Belt Tournament semifinals appearance in the past three tournaments.
Pre Stanley and Lainey Gosnell made headlines for the Black and Gold, as both players were named All-Sun Belt. Stanley was named to the first team and Gosnell to the second team. Stanley became the first player in school history to sign a WNBA preseason training camp contract, while Gosnell was the first player in program history to be named a CoSIDA Academic All-American.
With many teams unable to play due to a COVID-stricken season, App State managed to play 27 games – which was tied for 26th-most in the nation – and all 18 league contests. 

"I want to thank the Board of Trustees, Chancellor Everts and Doug Gillin for their confidence in me to continue to lead our program," Elderkin said. "It's truly an honor to be the head women's basketball coach at App State. The culture we have cultivated matches what this university and community represents. I am so proud and thankful for our incredible group of student-athletes, as well as our coaches and support staff. I look forward to our continued growth to elevate App State Basketball."
App State won the WBI title in 2018-19, finishing the season with a 22-14 mark after winning 10 of its final 12 games of the season.
Elderkin has emphasized being a staple in the community, working with Habitat for Humanity and the High Country Breast Cancer Foundation. The Mountaineers finished first in the country in the 2020 NCAA Team Works Helper Helper Community Service competition, logging in over 1,100 hours.
App State brings back seven letterwinners and eight newcomers in 2021-22. The Mountaineers open the season Nov. 9 against Lees-McRae, .
Notes on Elderkin
Coached six players to All-Sun Belt awards.
Coached five of the program's top-20 scorers, including Maryah Sydnor and Pre Stanley, who are third and fifth, respectively.
Coached three of the school's top-10 leaders in 3-pointers made, highlighted by Lainey Gosnell, who is third.
Coached three of the top-10 leaders in rebounds and blocks, including Bayley Plummer, who is second in rebounds and third in blocks
Coached five 1,000-point scorers.
The 2018-19 team set the program mark for 3-pointers in a season with 215.
The 22 wins in '18-19 were the seventh-most in school history, while it tied for the largest win improvement in a single season in program history and the fifth-largest turnaround in the country.
Raised over $10,000 in funds for cancer awareness through the Kay Yow Cancer Fund and the American Cancer Society.
Twenty-six student-athletes made the Sun Belt Commissioner's List.