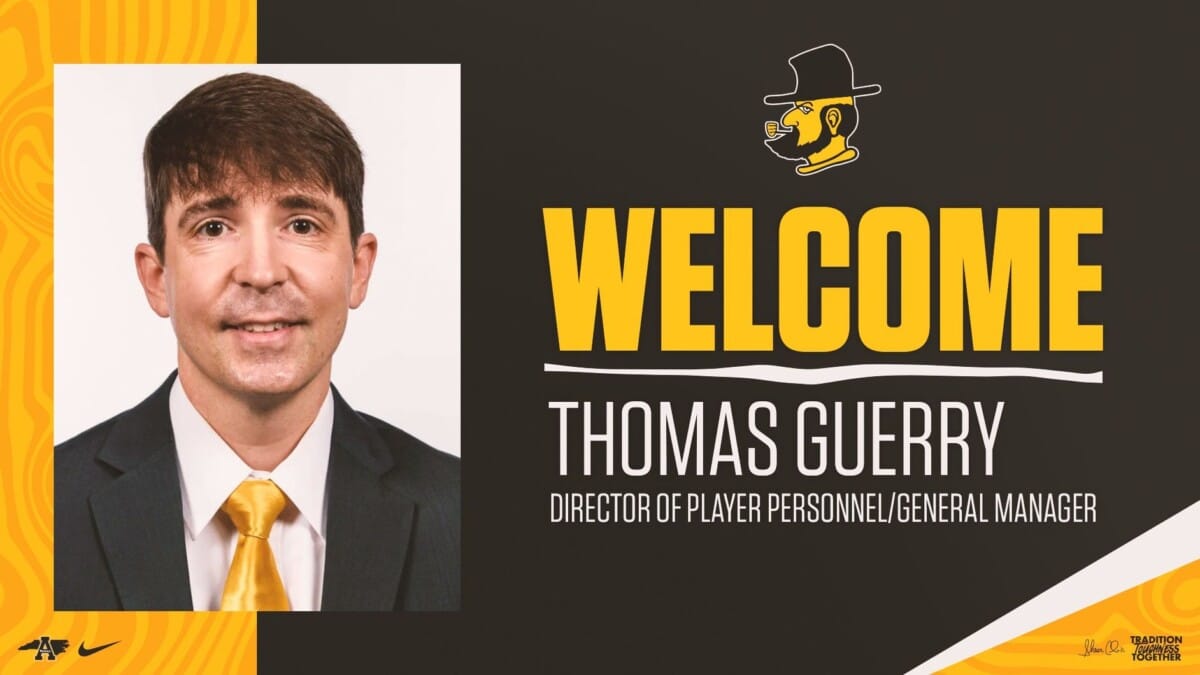 Last Updated on January 19, 2023 5:55 pm
BOONE, N.C. — App State Football has hired Thomas Guerry to be the Mountaineers' director of player personnel and general manager, head coach Shawn Clark announced Friday.
Having worked in the ACC or SEC since 2005, Guerry joined Georgia Tech's staff as an associate director of player personnel in 2019 and was promoted to director of player personnel in 2022.
"We are excited to welcome Thomas, his wife, Amanda, and their son, Ayden, to the App Family," Clark said. "Our program is built upon recruiting the highest caliber student-athletes, and Thomas will play a vital role in those efforts. His organization, attention to detail and passion for the game make him a great fit for App State Football."
A native of Canton, Miss., Guerry has worked at Mississippi State, Georgia, Virginia Tech and Georgia Tech over the previous 17 years. He went to Georgia Tech in 2019 following five seasons as Virginia Tech's director of recruiting operations (2014-18).
"The opportunity to join App State Football was one my wife and I could not pass up," Guerry said. "Having worked in the SEC and ACC, I have always looked at App State as a destination spot. The culture Coach Clark has instilled in this program, along with the assistant coaches and support staff in place, made it clear this was the right fit. His coaching philosophy, his values, his approach to how he runs his program, how he treats his players – if I'm a recruit, if I'm a parent of a recruit, I'm visiting App State and giving it a hard look.
"I look forward to working alongside the coaches, support staff and administration. I am grateful to Doug Gillin, Coach Clark and Nolan Jones for the opportunity."
Prior to his stint at Virginia Tech, Guerry spent four seasons at Georgia, working in football operations in 2010 before serving as a football recruiting assistant from 2011-13. He assisted the Bulldogs with player personnel, on-campus recruiting and social media efforts.
Guerry attended Mississippi State, where he earned a degree in business administration in 2008 and an MBA with a minor in sport administration in 2010. From 2005-10, he worked within Mississippi State's athletic department as a student manager and trainer.
Guerry and his wife, Amanda, have one son, Ayden, and a dog, Georgia Lane.