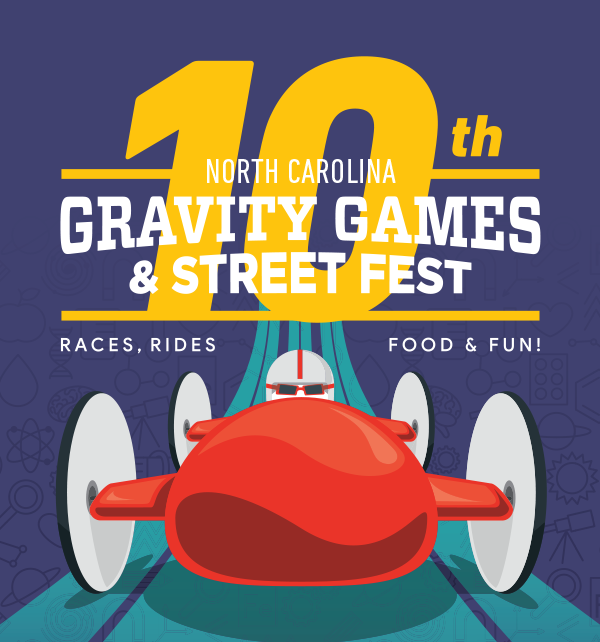 Last Updated on April 27, 2023 10:59 am
LENOIR, N.C. — Colorful gravity-powered cars designed and built by middle and high school students from across North Carolina are entered to compete in the 10th year of the North Carolina Gravity Games, to be held in downtown Lenoir on Saturday, April 29.
Presented by Google and sponsored by Appalachian State University and the NC Science Festival, the Gravity Games is a real-world experience in which students from across the state use STEM lessons (science, technology, engineering and math) to build and race their own gravity-powered cars in Lenoir, N.C., home to Google's data center.
Teams from Caldwell, Wilkes, Burke, Iredell, Lincoln, Orange, Wake, Chatham, Macon, Robeson, Duplin, Onslow and Vance counties will participate in the event, which takes place from 8:30 a.m. until 3 p.m.
Back for the first time since the beginning of the COVID-19 pandemic, the Gravity Games are the signature event of the North Carolina Science Festival, a multi-day celebration highlighting the educational, cultural and financial impact of science across the state.
The top teams in each division receive prizes from Google. The event also includes educational exhibits and demonstrations, including several staffed by App State faculty, staff and students.
Team Sunergy, App State's solar vehicle team, will display its solar-powered race car named ROSE (Racing on Solar Energy). ROSE finished first in the 2021 American Solar Challenge and second in the 2022 and 2019 editions of the cross-country road race.
For more information about the event, visit ncgravitygames.com.