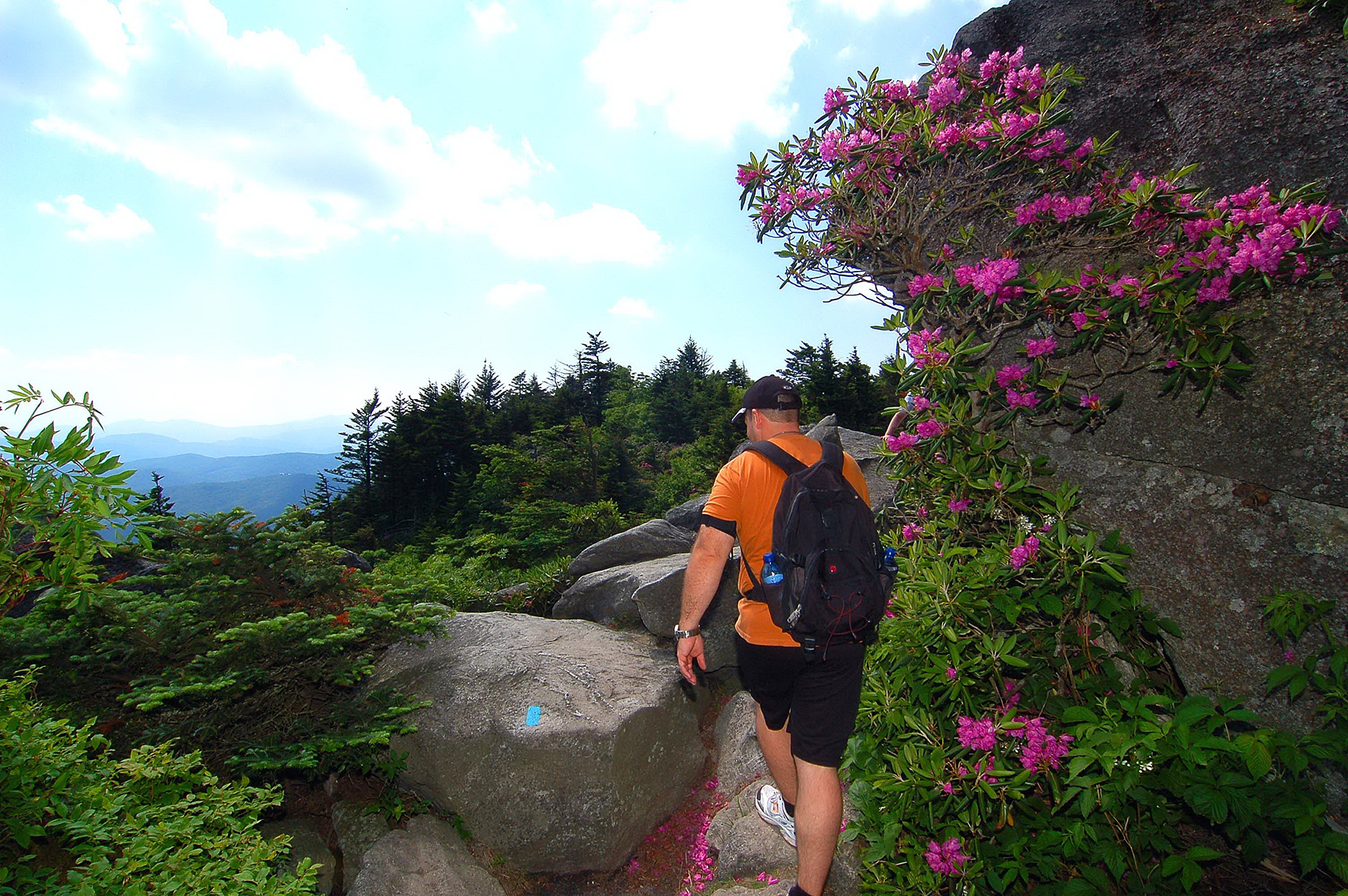 Last Updated on May 28, 2023 7:32 pm
LINVILLE, N.C. – The North Carolina General Assembly has declared 2023 the "Year of the Trail," encouraging the state to emphasize showcasing, promoting and celebrating its unique and extensive trail systems while getting people outside and immersed in nature.
Grandfather Mountain, the not-for-profit nature park run by the Grandfather Mountain Stewardship Foundation, is joining in this celebration by recognizing the American Hiking Society's National Trails Day. A premier hiking destination in the Southeast, renowned by trail enthusiasts, Grandfather has historically hosted a Trails Day event and is bringing the festivities back for N.C.'s "Year of the Trail."
On June 3, the Linville, N.C., nature preserve will host various interpretive tables and programs at the Woods Walk, located about a third of a mile from the Grandfather Entrance Gate.
From 11 a.m. to 3 p.m., included with park admission, guests will have the opportunity to learn about a diverse range of topics such as how to plan a hike, the principles of Leave No Trace, essential hiking items to bring and more. Additionally, interpretive park guides or resource management technicians will lead multiple guided hikes.
John Caveny, director of conservation and education for the Grandfather Mountain Stewardship Foundation, stated that the hikes will focus on the mountain's unique natural resources as well as how participants can prepare themselves for expeditions of their own.
"The hiking trails on Grandfather Mountain have a long history of attracting hikers for the ruggedness, views and natural beauty that this place has to offer," said Caveny. "We are happy to offer this event to showcase our trails and assist participants in being better prepared for all of their outdoor adventures."
As some programming will occur concurrently, guests are encouraged to move from table to table to gain the widest extent of information. The full schedule of the day's events is listed below.
11 a.m. – 2 p.m.: Interpretive Tables around Woods Walk
12 – 12:30 p.m.: Woods Walk guided hike
1 – 1:30 p.m.: Woods Walk guided hike
2 – 3 p.m.: Black Rock guided hike
Grandfather Mountain Trails
Grandfather Mountain offers a variety of hiking trails suitable for all fitness levels, ranging from easy and moderate to more dynamic and technical.
Looping from a picnic area near the park's entrance gate and just under half a mile long, Woods Walk is perfect for a leisurely woodland stroll.
Beginning from the Black Rock Parking Area, hikers can take on a few more moderate and scenic trails. The Bridge Trail ends at the Top Shop by the Mile High Swinging Bridge, just under half a mile each way. The Black Rock Trail, offering stunning views and extending to a rock outcropping, is about a mile each way. The Grandfather Trail Loop utilizes three trails, taking visitors through towering boulders and underneath the bridge with an elevation above 5,000 feet.
For experienced hikers looking for a more adventurous trail, the Grandfather Trail offers a 2.4-mile trek into Grandfather Mountain State Park featuring cables and ladders for hand-over-hand progress, and ends at the mountain's highest point, Calloway Peak, at 5,946 feet.
Backcountry trails, including the popular Profile Trail and Daniel Boone Scout Trail, have separate trailheads accessed from the state park off of N.C. 105 and the Blue Ridge Parkway.
Always remember to have a plan before you leave for a hike. Let someone know where you are going and when you intend to return, read signage at the trailheads for important information and regulations about the trail you are going on and be prepared for all different weather conditions.
To view Grandfather Mountain's hiking guides, visit www.grandfather.com/hikes.
For more information on the National Trails Day event, visit www.grandfather.com/event/national-trail-day.
The nonprofit Grandfather Mountain Stewardship Foundation strives to inspire conservation of the natural world by helping guests explore, understand and value the wonders of Grandfather Mountain. For more information, visit www.grandfather.com.