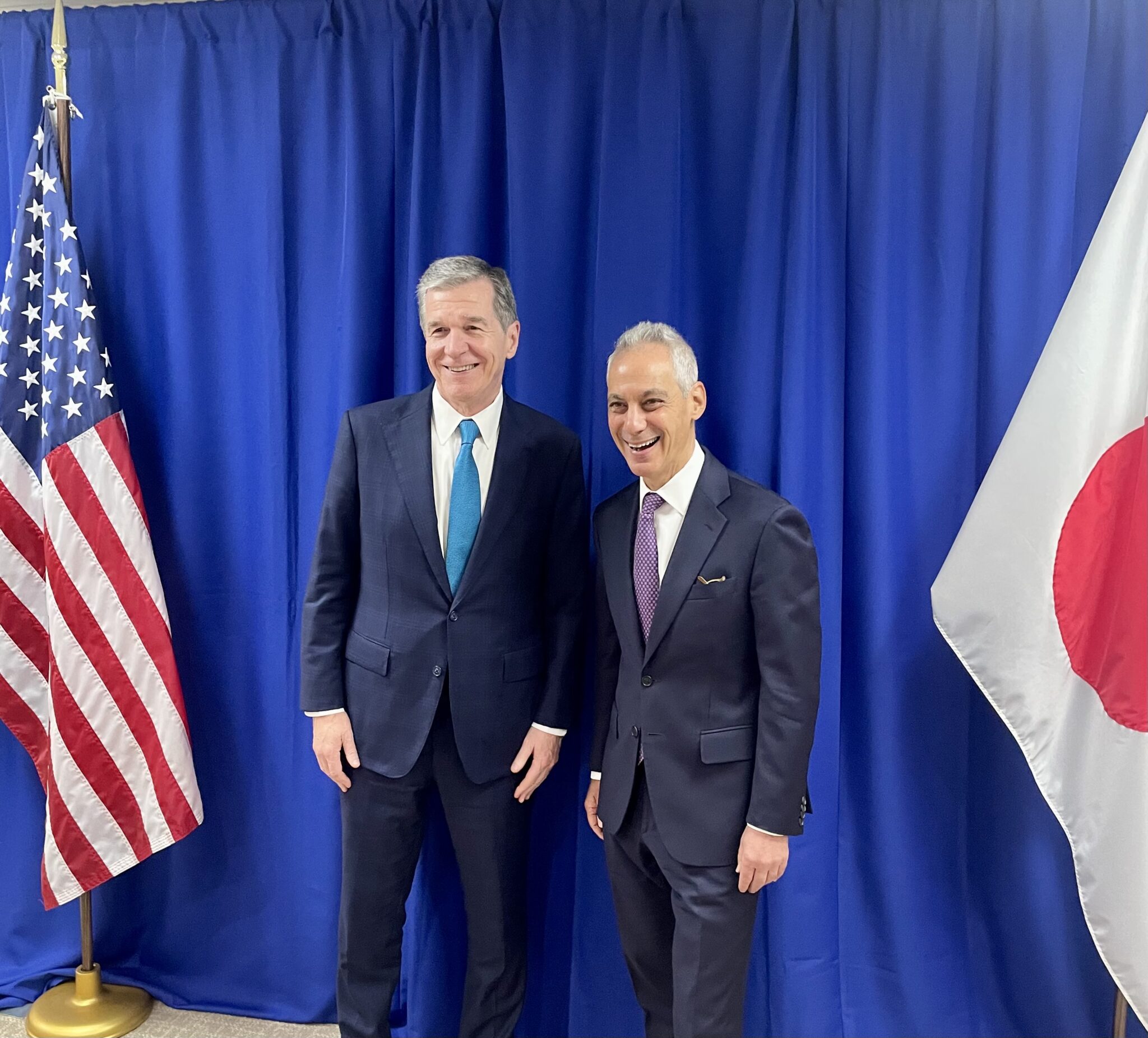 Last Updated on October 12, 2023 12:44 pm
RALEIGH: Today, Governor Roy Cooper attended the Southeast U.S./Japan Association (SEUS/Japan) meeting in Tokyo and met with business and political leaders to discuss North Carolina's partnership with Japanese businesses and the country. The Governor was joined by NC Commerce Secretary Machelle Baker Sanders and Economic Development Partnership of North Carolina Chair Chris Chung, along with other economic development leaders. With 35 attendees, this is the largest delegation that North Carolina has ever brought to a Tokyo meeting.
"Over thousands of miles of land and sea and several generations, North Carolina's relationship with Japan has grown strong and resolute, producing valuable successes for our people," said Governor Cooper. "We look forward to continuing to work together to bring success to both the southeastern United States and Japan through this valuable partnership."
Governor Cooper met with United States Ambassador to Japan Rahm Emanuel to discuss the strong economic partnership between North Carolina and Japan.
The Governor also met with Toyota Motor Corporation President Koji Sato and Toyota Motor North America Executive Vice President Chris Reynolds to discuss the jobs Toyota is bringing along with their overall presence in our state. In December 2021, Governor Cooper announced that Toyota will build its first North American battery manufacturing plant in the Triad. To date, Toyota has announced 2,100 jobs and $5.9 billion in capital investment at the plant.
Additionally, the Governor met with Bridgestone Global CEO Shu Ishibashi to discuss continued collaboration with the company and its tire manufacturing operation in Wilson. Bridgestone Corporation is a Japanese multinational tire manufacturer and Mr. Ishibashi is the Japan co-chair for the 2023 and 2024 SEUS-Japan Conference. Located in Wilson, Bridgestone Americas Tire Operations employs over 2,000 North Carolinians.
At the SEUS/Japan opening ceremony, the Governor delivered remarks to highlight North Carolina and Japan's valuable partnership. More than 27,000 people work at a Japanese-owned company in North Carolina, including Hitachi in Wilmingon, HondaJet in Greensboro and FUJIFILM Diosynth in the Research Triangle.
SEUS/Japan is the premier economic development partnership between the eight states in the Southeastern United States and Japan, one of the nation's largest trading partners and home to 225 companies with large presences in North Carolina. The 2024 SEUS/Japan Conference will be held in Charlotte, a milestone event that will showcase the state's economy and build greater ties between North Carolina and Japan.