Last Updated on October 2, 2022 5:40 pm
**UPDATED 3:16pm**
3:16pm – Tornado Watch for Watauga and Ashe is now cancelled
Temps are down 21 degrees from 66 at 12:35 to 55 at 1:15 to 45 at 3:08pm.
Temps are down 11 degrees from 12:35 (66) to 1:15pm (55) at the Watauga Medical Center reporting station.
Tornado Watch for Avery is now cancelled – 1:40pm
1:13pm – The threat of severe weather (tornadoes) has dropped significantly with the rain /showers that just pass through. We do still have possibility of high winds in the 50-60mph range.
12:50pm- Heavy rain in Boone now
At noon it's cloudy with some hints of sun, so far some parts of the county have only had scattered sprinkles
Tornado Watch until 4:00 PM Friday for all of the High Country and foothills. The National Weather Service forecast includes a 70% chance of showers and storms and windy. Wind gust of up to 55 mph this afternoon. Rain and snow tonight, up to an inch of accumulation possible. a Wind Advisory is in effect until midnight tonight. Check Weather Forecast/Radar page for more information.
9:24am – Tornado Watch until 4:00 PM Friday for all of the High Country and foothills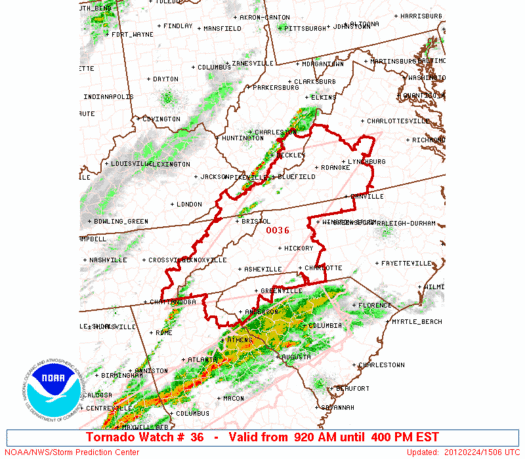 Video update from Brad Panovich, WCNC NewsChannel 36 Chief Meteorologist, Twitter Facebook