Last Updated on October 2, 2022 5:50 pm
5:30am – blowing and drifting snow are causing some travel issues this morning. Watauga County Communications dispatch office is reporting that the 600 block of Brownwood Rd off of US HWY 421 S is drifting and stranding motorists. Use caution.
6 foot snow drift on the Parkway near Blackberry Road. Photos: Watauga County Communications

5:35am – Main roads are in good condition. Secondary roads are much like they were on Thursday afternoon, either partially or fully snow covered depending on location. Gravel roads totally snow covered according to Watauga Communications.
5:50am – no reported power outages in the Blue Ridge Electric member area.
Snow depth map from Thursday Feb 13. Credit: National Weather Service
Snow fall totals. Credit: National Weather Service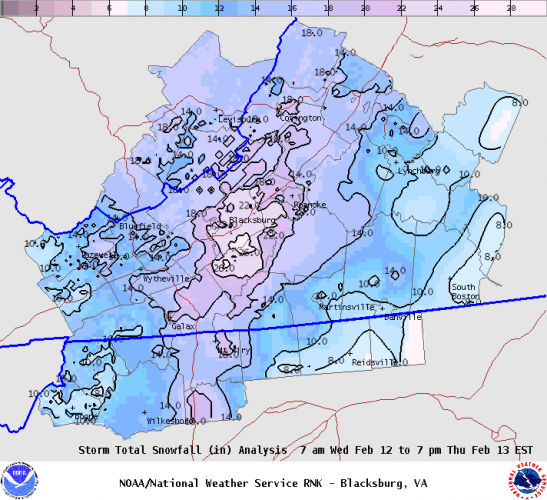 Construction operations on 321 in Blowing Rock suspended today due to weather. Call 828-964-3260 for project information.
6:50am per social media report – Top of the hill on Wilson Ridge is a bit slippery both directions. S-Bends on Deerfield at the top of the hill are very slippery with drifts blowing across. Bamboo has drifts across and is down to one lane in spots by the airport.
7:15am – no other reported problems at this time.
Winter Weather Advisory from 2/14/2014 7:00 PM to 2/15/2014 1:00 PM EST for Ashe County, Watauga County. 1.usa.gov/1mh0OOs
If you have paid real close attention to the snow you will notice it's a "blue snow"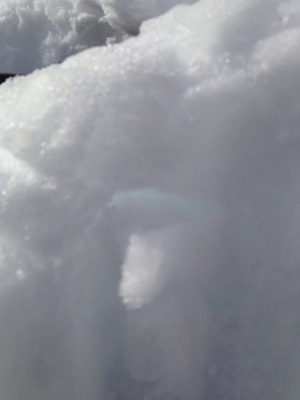 According to the National Snow & Ice Data Center blue snow occurs:
"As light waves travel into the snow or ice, the ice grains scatter a large amount of light. If light travels over any distance, it must survive many such scattering events. That is, it must keep scattering and not be absorbed.
The observer sees the light coming back from the near surface layers after it has been scattered or bounced off other snow grains only a few times and it still appears white. This absorption is preferential: More red light is absorbed than blue. The difference in absorption is small, but is enough that over a considerable distance, say a meter (3.3 feet) or more, photons emerging from the snow layer tend to be made up of more blue light than red light.
For instance, if you were to poke a hole in the snow and look down into the hole, you may see a bluish color. In each case, the blue light is the product of a relatively long travel path through the snow or ice. Think of the ice or snow layer as a filter. If it is only a centimeter (0.39 inches) thick, all the light makes it through, but if it is about one meter (3.3 feet) thick, mostly blue light makes it through".