Last Updated on July 17, 2015 5:21 pm
An overturn tractor and trailer resulted in the closing of a section of 421 on Friday afternoon, just before the Watauga/Wilkes County line
The first report of the accident, which occurred on the Wilkes side, came into the WataugaRoads.com social media outlets just after 3pm. Two different incoming reports said the road was closed two different times to allow medical helicopters to land. At one point NCSHP and a Blue Ridge Parkway Ranger were directing traffic at the top of the mountain and turning vehicles around.
The road was back open totally around 4:30pm, per incoming reports.
Two people were in the tractor and trailer. One was taken to Baptist Hospital, and the other was trapped for about two hours and was flown to Baptist, according to WFMY News 2. Still no word on the cause of the accident.
Photo:submitted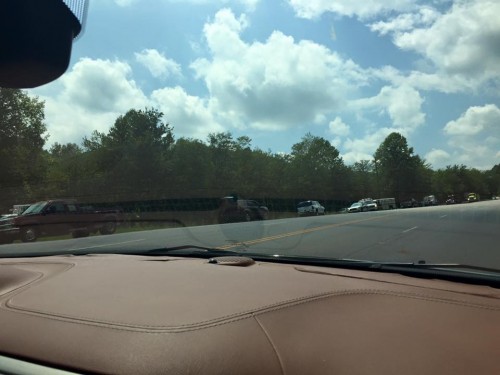 Crews working to extricate patient 421 south. Helicopter enroute. pic.twitter.com/2b3O32CbKN

— Wilkes County EMS (@WilkesEMS) July 17, 2015
Patient loaded onto helicopter. 421 back open. Be aware of emergency vehicles still working in the area. pic.twitter.com/RSJbqbTJGm — Wilkes County EMS (@WilkesEMS) July 17, 2015