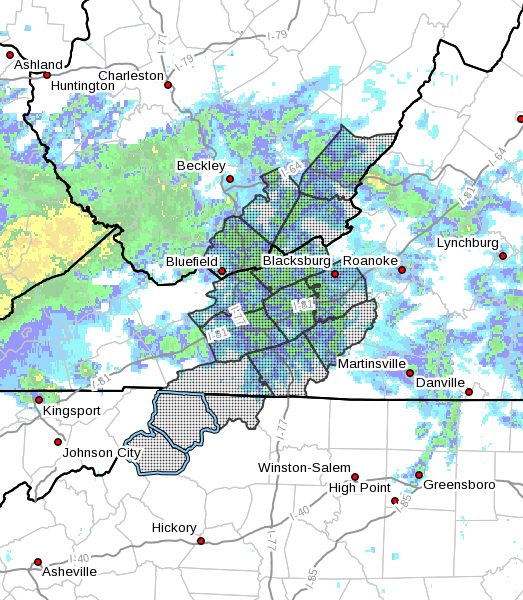 Last Updated on February 27, 2021 3:00 am
NCZ001-002-018-VAZ010>017-WVZ042>044-507-271200-
/O.NEW.KRNK.ZF.Y.0005.210227T0639Z-210227T1200Z/
Ashe-Alleghany NC-Watauga-Bland-Giles-Wythe-Pulaski-Montgomery-
Grayson-Carroll-Floyd-Mercer-Summers-Monroe-Eastern Greenbrier-
Including the cities of West Jefferson, Sparta, Boone, Bland,
Pearisburg, Wytheville, Radford, Pulaski, Blacksburg,
Independence, Whitetop, Troutdale, Volney, Galax, Floyd,
Bluefield, Flat Top, Hinton, Hix, Union, Lewisburg,
White Sulphur Springs, and Alderson
139 AM EST Sat Feb 27 2021
…FREEZING FOG ADVISORY IN EFFECT UNTIL 7 AM EST THIS MORNING…
WHAT…Visibility one mile or less in areas of dense fog and
dense freezing fog.
WHERE…Portions of southwest Virginia, northwest North
Carolina and southeast West Virginia.
WHEN…Until 7 AM EST this morning.
IMPACTS…Hazardous driving conditions due to low visibility and
potential frost on bridges. Some light icing is all possible on
other elevated surfaces and objects such as trees and vehicles.
ADDITIONAL DETAILS…Dense fog will be prevalent through much of
the region included within the advisory this morning. While most
areas are hovering near or just above the freezing mark, some
locations such as Boone, Bluefield, Blacksburg, and Lewisburg
are holding steady in the 31 to 32F range and thus could see
pockets of freezing fog versus just dense fog.
PRECAUTIONARY/PREPAREDNESS ACTIONS…
If driving, reduce speed, use low beam headlights, and leave
extra distance between you and the vehicle in front of you. Be
alert for patches of ice or frost on bridge decks and other
elevated road surfaces. Areas of severely reduced visibility can
also be expected.