Last Updated on June 14, 2015 8:45 pm
Editor's Note – I was privileged enough to have Coach Roten as a gym/weightlifting instructor at Watauga High School in the late 1980's and early 1990's. I can't recall during that time ever hearing his raise his voice…. unless we were goofing off as high schoolers tend to do. His reach both on and off the football field, and in classes he taught, reached much farther than he could have ever known. RIP Coach*
Jack Roten, former Watauga High School football Coach and long time educator, passed away at his home on Friday night.
Before entering the coaching and teaching profession, Roten was a three year varsity running back, point guard, and sprinter on the track team at Appalachian High School. After high school Roten attended Appalachian State, where he lead the football team in rushing with 780 yards with a 9 yards per carry average and 9 touchdowns in only 5 games.
He still holds the 14th all-time best rushing game in ASU history with 206 yards in 19 attempts versus Newberry in 1968, and the record for most kickoff return yards in one game, 191 yards on 7 returns, versus Southeast Louisiana in 1965.
Those associated with Watauga High School during the 1980's to early 2000 might also recall Coach Roten as the sponsor for the Fellowship of Christian Athletes, which he started in 1987.
Candis Walker, a current WHS school counselor and member of FCA during her student years at WHS, recalls "He was a powerful influence and showed such compassion to his students."
Jerry Moretz played on Roten's first varsity coached football team. Moretz, an educator and multi sports coach at WHS, recalls " I never heard him use a cross word or speak about anyone except in a positive manner, he always led by example." "When I became a teacher at Watauga, he was one of the first to welcome me and always gave me encouragement and guidance. I only hope I can touch and impact a fraction of the lives he has.", Moretz adds.
Former coworkers of Coach Roten shares with WataugaRoads.com their thoughts:
"Just can't wrap my head around this. He was a class act all the way."
"He was one of the kindest, good hearted, generous and thoughtful people I've ever known. A true gentleman. My heart is breaking."
"I am so sorry for your family…I know you will be in the Lord..you sure were a great football player at ASU. I went to all your games."
From Hampton Funeral Service:
Funeral services for Jack William Roten will be conducted Tuesday morning, June 16, 2015, at 11:00 o'clock, at Alliance Bible Fellowship. The body will lie in state, at the church, from 10:00 until 11:00 o'clock. Officiating will be Pastor Michael Gragg and Mr. David Aderhold. Burial will follow in Mount Lawn Memorial Park and Gardens.
The family will receive friends Monday evening, from 5:00 until 7:30 PM, at Hampton funeral Service.
In lieu of flowers, memorial contributions may be made to Fellowship of Christian Athletes, Attn: Receipting Department, 8701 Leeds Road, Kansas City, Missouri, 64129, Operation Christmas Child, in care of Samaritan's Purse, PO Box 3000, Boone, North Carolina, 28607, or to The Rock Church, 215 Boone Heights Drive, Boone, North Carolina, 28607.
Online condolences may be sent to the Roten family at www.hamptonfuneralnc.com.
Photo: Hampton Funeral Service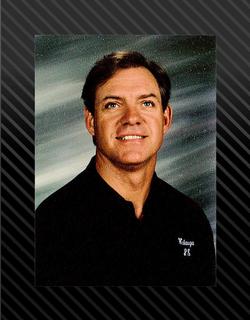 Photo: Appalachian State athletics