Last Updated on November 27, 2016 9:18 pm
A former Vice-President of the Boone Area Chamber Of Commerce recently won a state award during the North Carolina Chamber Annual Management Conference in Chapel Hill.
Laurette Leagon, a 10 year Vice President of the Boone Area Chamber of Commerce, was presented with the 2016 North Carolina Chamber Executive of the Year in late October. The award recognizes long-term executives who have excelled over a period of years in leading and innovatively building their chamber. The award is based on the demonstration of excellence in areas of chamber leadership, organizational management, and service to the profession, community reputation / involvement, and personal attributes.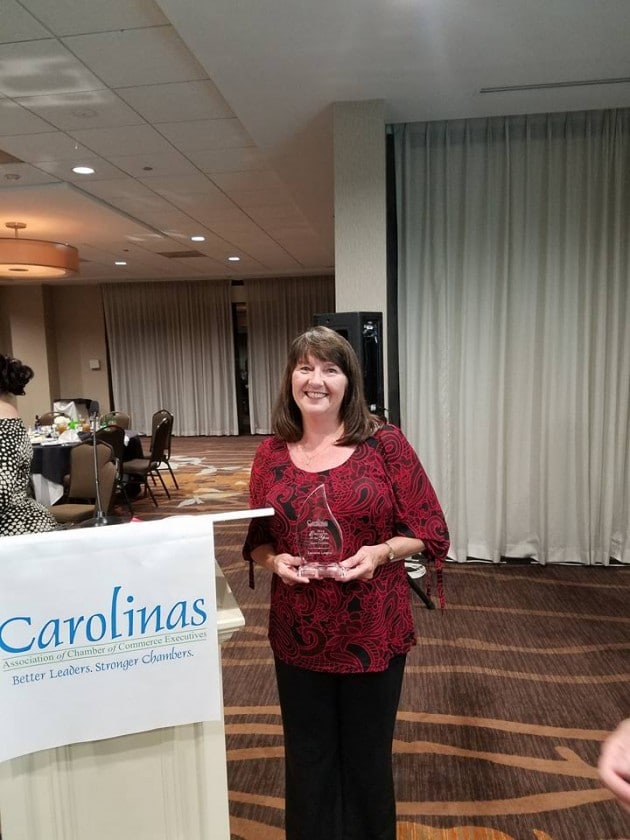 Leagon is now in her 20th year as a Chamber professional in North Carolina, which includes six and a half years as President/CEO of the Yadkin Valley Chamber of Commerce, and is entering her fourth year as President of the Jacksonville-Onslow Chamber of Commerce.
She attributes her success to the on-going training she has received as a result of her positions with the Chambers of Commerce. She completed the CACCE Professional Development Series, is a graduate of the US Chamber of Commerce Institute for Organization Management, as well as the Center for Creative Leadership's Piedmont Triad Partnership Foundations of Leadership Program. She is also a regular attendee at the CACCE Management Conferences and Staff Development Conferences.
Leagon currently represents the Chamber on several board and committee:
Board Member, Carolina Association of Chamber of Commerce Executives
Board Member, North Carolina Travel Industry Association
Member, NC East Alliance Chambers
Vice-Chair, Onslow Civic Affairs Committee Member
Ex Officio Board Member, Jacksonville Tourism Development Authority
Ex Officio Member, Jacksonville Onslow Economic Development
Board Member, Onslow United Transit Service
Member, Maximizing Student Opportunities Advisory Board
During the course of her career, she has effectively adjusted to the changing climate of the Chamber profession, while never losing sight that any changes made, must first and foremost, be what is best for the membership.