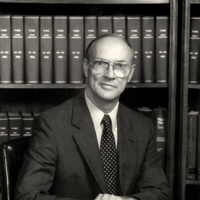 Last Updated on April 11, 2023 7:47 pm
A man who held the roles of professor, administrator, Coach, and Athletics Director during his time at Appalachian State has passed away.
James F. (Jim) Jones, age 93, passed away on April 4, according to his obituary from Hampton Funeral Home.
During his time as Athletics Director, from 1974 – 1980, the athletics program grew from 6 to 22 sports, including fielding new women's teams in basketball, field hockey, tennis, and golf. The first women's athletics scholarships were awarded during his tenure.
Service for Jim Jones took place on Monday.
More of his community involvement and noted accomplishments are included in his obituary below courtesy of Hampton Funeral and Cremation.
James F. (Jim) Jones was a native North Carolinian and life-long resident who enjoyed a long and distinguished career in collegiate athletics administration, coaching, and teaching. At his core, though, Jim was a dedicated family man who invested himself in serving his community. While he was born in Bolton near the coast, Jim was a true Mountaineer at heart. He loved his 66 years in Boone and felt it was truly his home.
Jim moved to Boone in 1956 to teach and coach at Appalachian State University. It was a one-year contract, but that stretched into nearly four decades of dedicated service to Appalachian. Jim served as the chair or acting chair of the Accounting Department for many years and retired as Professor Emeritus. He loved being an educator but knew college was about more than just schoolwork. In 1958, he founded the Collegiate Civic Club to expand the opportunities for service and socializing among young men at Appalachian. The club became a chapter of Lambda Chi Alpha fraternity in 1975. Jim held many roles at the school in athletics coaching and administration, but even with all of those responsibilities, he made a point to teach at least one course per term to stay connected with students. He found great joy in sparking an interest in accounting within students who were passing through on their way to another business major. Students who wore a hat in his classroom continue to remember him many decades later. Jim enjoyed challenging and mentoring students and actively participated in the internship program for many years, including after his retirement. He received many honors for his teaching, including the North Carolina Outstanding Accounting Educator award. However, the greatest reward for his dedication to students was the relationships they maintained with him long after graduation. Jim felt a special connection to first-generation college students, an experience he shared with them. He earned degrees from Elon University (BA) and East Carolina University (MA), refusing to let others define or limit what he could achieve. He passed that legacy on to countless students, athletes and his family.
Never one to be idle, Jim was not content with just one role. In addition to his teaching, he was proud to be called Coach Jones for 20 years. He first coached tennis at High Point University in 1954. At High Point his team lost the first match but followed up with 16 straight wins and the North State Conference Championship. He continued that success at Appalachian. Jim adored his players, even when making them run up to the Broyhill Center repeatedly, and they delivered a winning record each and every season. Jim's teams at both universities had a combined meet record of 267-86, won eight conference championships and several NAIA District championships, participated in seven NAIA national tournaments, and sent individual players to three NCAA University Division tournaments. Among numerous other awards, Jim's commitment to collegiate tennis was recognized in 2006 as he was inducted into the North Carolina Tennis Hall of Fame. However, the deep and enduring bond with his players was the honor he most valued. As proud as he was of his players' performance on the court, he took the greatest joy in their success in building careers and families.
Serving as a professor, academic administrator, and tennis coach was still not enough to match Jim's boundless energy. He also held numerous roles in the Appalachian athletics department culminating in his service as Athletics Director from 1974 – 1980. During his tenure, the school athletics program grew from 6 to 22 sports, including fielding new women's teams in basketball, field hockey, tennis, and golf. The first women's athletics scholarships were awarded under Jim's leadership. During the 50th anniversary celebration of women's sports at Appalachian, Jim was honored as a trailblazer for his support in increasing opportunities for female scholar-athletes. Beyond Appalachian athletics, Jim served as the secretary-treasurer for the Southern Conference for more than a decade. Additionally, he served many years as vice president and president of the NAIA National Tennis Coaches Association and director of the NAIA national tennis tournament.
On top of his collegiate career, Jim was an active, engaged servant-leader in his community and his state. He was a member of the Boone Area Chamber of Commerce, the local and state Lion's Club, Watauga County Chapter of the American Red Cross, the local and state Republican Party, the Boone Parks and Recreation Committee, and the Boone United Methodist Church, holding various leadership roles in most of these organizations. Additionally, Jim was Business Manager and co-owner of Camp Yonahlossee from 1970 to 1980. After fully retiring, Jim volunteered for 16 years at Watauga Regional Medical Center alongside his wife. He loved the friends he made at Watauga Regional, especially those in the pharmacy and cancer center.
Jim received numerous honors for his contributions to athletics, education, and his community throughout his lifetime, including being inducted into the Helms-NAIA National Sports Hall of Fame and the Appalachian Sports Hall of Fame. He received the Distinguished Service Award from the Lambda Chi Alpha Fraternity at Appalachian in appreciation for founding the chapter. As the ultimate teacher-coach, Jim was most touched by the creation of two scholarships in his name. The Appalachian State University alumni established a tennis endowment in his name in the 1970s, and upon his full retirement from Appalachian State, the Walker College of Business established an endowment in his name with 80% of the earnings going to student awards in the Accounting Department and 20% to the tennis program. More recently, he was surprised and pleased with the creation of the Lambda Chi Alpha Fraternity – Jim Jones Endowment to support Appalachian's food and clothing pantries.
Jim met his future wife, Elaine, appropriately, at a faculty meeting and then sparked their lifelong romance on a tennis court at Appalachian in 1960. They married on July 14 the following year and spent nearly 62 years as true partners. To say that he adored Elaine is an understatement as was clear to anyone who witnessed the way he gazed at her. Jim and Elaine successfully raised three daughters, Judy Jones Tisdale (John), Amy Viola (Steve), and Betsy Walsh (Brendan), and they gleefully spoiled five grandchildren, James Viola, Grace Viola, Josiah Tisdale, Katherine Walsh, and Elizabeth Walsh. Despite his commitment to his work as an educator, coach, athletics administrator, and community servant, nothing meant more to Jim than family. He made frequent trips across the Carolinas to maintain close connections with his family. He was devoted to his mother, brothers, sisters-in-law, brothers-in-law, nieces, nephews, great-nieces and nephews. He was especially thrilled each time a family member came to Boone to attend Appalachian. Jim was known by many names in his lifetime, each with special significance: James Frederick, Jim, Jonesey, Uncle S, Coach, Daddy, and, most importantly, Bubby.
Jim's interests included reading, American and World War II history, family genealogy, big band swing music, Boone, travel, sports, politics, and the weather. His particular passion was vegetable gardening, for years tending three different gardens spread across Boone. He was quick to share seedlings with fellow gardeners and fresh vegetables with colleagues, friends, and neighbors.
A reception will be held at Boone United Methodist Church at 1:00 pm on April 10, 2023, to be followed by a service at 2:00 pm. In lieu of flowers, memorial gifts may be made to any of three funds within the Appalachian State University Foundation, Inc.: the James F. Jones Endowment for Accounting; Lambda Chi Alpha Fraternity – Jim Jones Endowment; or the Athletics Facilities Campaign Fund for Outdoor Tennis. Gifts may be mailed to ASU Box 32014, Boone, NC 28608 or made online at give.appstate.edu.
Online condolences may be sent to the Jones family at www.hamptonfuneralnc.com
Hampton Funeral and Cremation family is in charge of the arrangements.