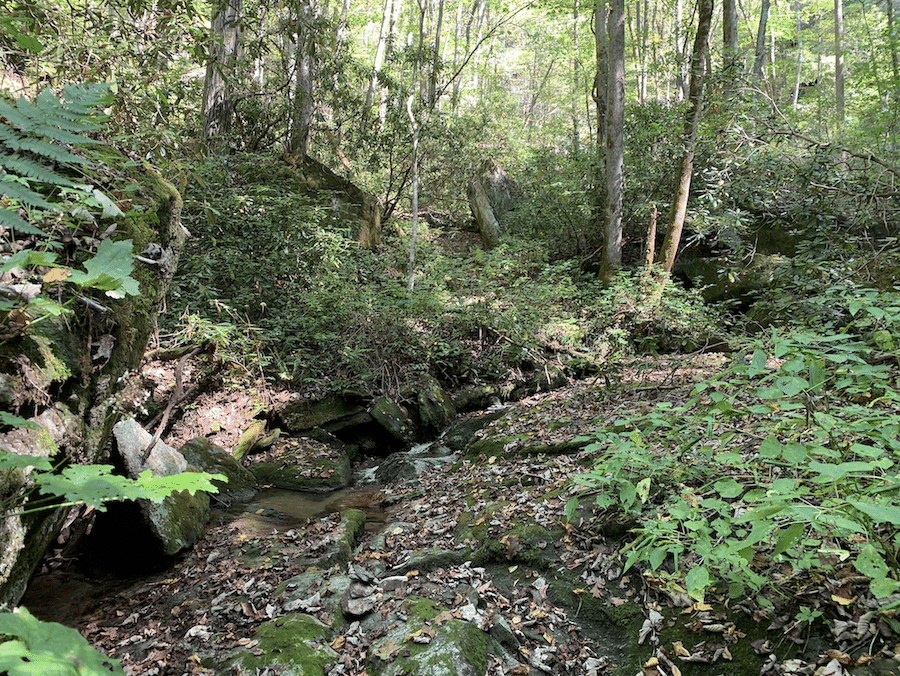 Last Updated on July 15, 2021 7:06 pm
On July 13, Foothills Conservancy of North Carolina purchased 118 acres in the Globe area of Caldwell County, along N.C. Highway 90 and the Johns River and between Blowing Rock and Collettsville. Named Burntfield Branch, after the stream that runs through the property, this acquisition contains an undeveloped portion of the existing Johns River Valley Camp property.
Surrounded on three sides by Pisgah National Forest, the Burntfield Branch property will soon be officially added to Pisgah's landscape, transferring from Foothills Conservancy to the U.S. Forest Service in the next few years. The project will bring new public fishing and access opportunities to the area in addition to a local wildflower trail along Burntfield Branch. Conservation of this property improves public access to existing Forest Service lands and protects a section of the Johns River that begins near Blowing Rock.
"First and foremost, this will be fantastic for public access to Johns River," said Nick Larson, USFS Grandfather District Ranger. "Ten years ago, public access on Johns River was a total of about 200 yards. Foothills Conservancy's work on the Burntfield Branch tract, along with other recent acquisitions, has greatly improved public access to Johns River."
Phil Hardy, executive director of Johns River Valley Camp, is excited for the opportunity to protect important natural resources right in his organization's backyard.
"A large part of our mission at Johns River Valley Camp has been and continues to be to teach the vital importance of our relationship to the land we inhabit," he said. "We recognize that the earth sustains us, and we, in turn, engage in its stewardship. We are exceedingly thrilled to be in partnership with Foothills Conservancy of North Carolina and are enthusiastic about passing along the baton of care for this small corner of the planet to the U.S. Forest Service. As our ministry continues, we will reflect upon this as an historic moment in which we linked arms with others who share our love for the created world."
The Burntfield Branch property is rife with a variety of spring wildflowers and consists entirely of Southern Appalachian natural communities and plant species. At least 205 species are found on the property, including 175 plants and 30 wildlife species. Six North Carolina National Heritage Program rare species, including three wildlife and three plant species, are documented on the property and in Johns River, including the little brown-bat (Myotis lucifugus) and tricolored bat (Perimyotis subflavus).
Dominated by forested habitats, the property also features exposed bedrock, rocky summits, cliffs, boulder fields and outcrops.
"The ecological value of this property is fantastic," said Larson. "Much of this property is a mix of southern yellow pines and hardwood that really identify the foothills of the Grandfather Ranger District. It also has some unique meadows that will provide great habitat and opportunities for birders to chase song birds and casual botanists to chase unique flower and plant species."
Foothills Conservancy board member and wildflower enthusiast Susan Powers has enjoyed the social trail for many years and expressed her excitement to share this special section of Caldwell County with others.
"This is the best wildflower trail I've ever hiked," said Powers. "There are so many varieties in such a short distance, and I'm always astonished at how natural and undisturbed the trail is. It's pretty, peaceful and not strenuous. My favorite time of year to go is the second week of April."
Funding for the project acquisition includes a generous contribution from conservation philanthropists Brad and Shelli Stanback and a grant from the Alice Zawadski Land Conservation Fund of the North Carolina Native Plant Society (ncwildflower.org). This grant was used to complete a baseline documentation report, recording the property's current conditions to be used as a basis of stewardship during FCNC's ownership.