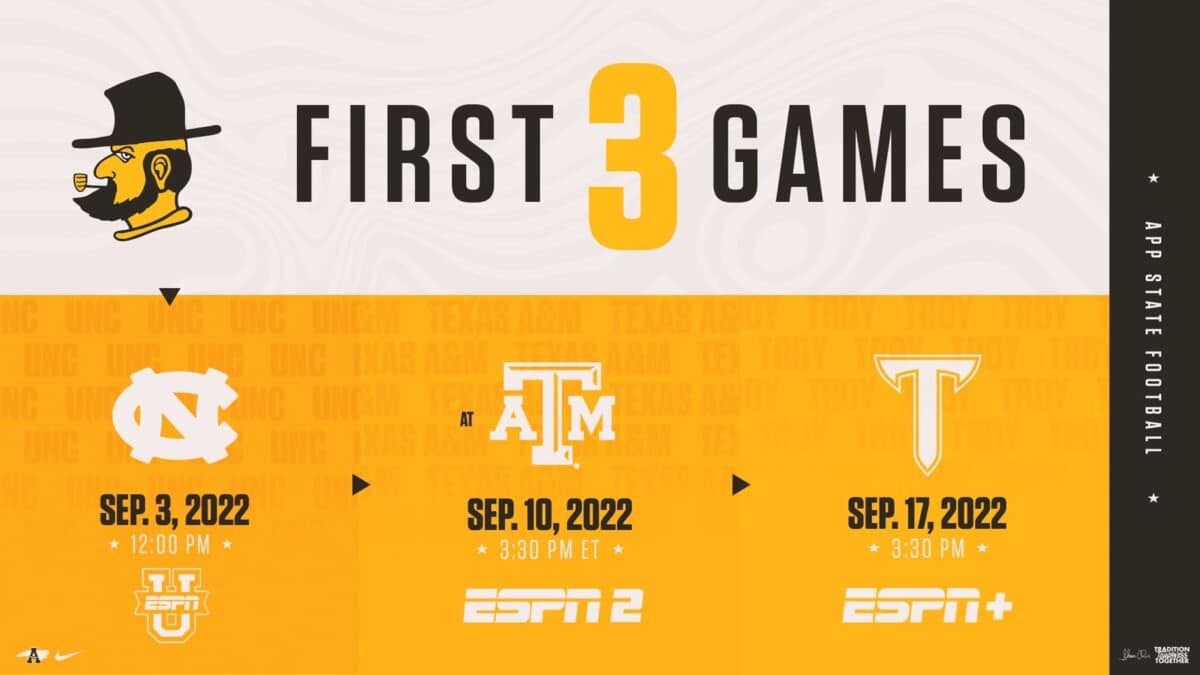 Last Updated on May 26, 2022 2:59 pm
BOONE, N.C. — Game times and television network designations for five of App State's 2022 football contests were announced Thursday in conjunction with ESPN and the Sun Belt Conference.

A minimum of four App State games will air on national television this fall, in keeping with the rise in the Mountaineers' national reputation since joining the FBS ranks in 2014.

Game times and network designations announced Thursday:

Sept. 3 vs. North Carolina (Boone, N.C. – Kidd Brewer Stadium)
Noon ET, ESPNU

Sept. 10 at Texas A&M (College Station, Texas – Kyle Field)
3:30 p.m. ET, ESPN2

Sept. 17 vs. Troy (Boone, N.C. – Kidd Brewer Stadium)
3:30 p.m. ET, ESPN+

Wed., Oct. 19 vs. Georgia State (Boone, N.C. – Kidd Brewer Stadium)
7:30 p.m. ET, ESPN2
Thurs., Nov. 3 at Coastal Carolina (Conway, S.C. – Brooks Stadium)
7:30 p.m. ET, ESPN

App State set a program record with eight nationally televised games in 2020 and has had at least seven in each of the last three seasons.

The Mountaineers boast an all-time record of 39-15 in games aired on ESPN, ESPN2 or ESPNU, including last year's victories over East Carolina on ESPNU, Marshall on ESPN and Coastal Carolina on ESPN2.

For information on season tickets, call the App State Athletic Ticket Office at 828-262-7733. 2022 football single-game tickets will go on sale at a later date if they are available.

2022 App State Football Schedule
Sat., Sept. 3 vs. North Carolina (noon, ESPNU)
Sat., Sept. 10 at Texas A&M (3:30 p.m., ESPN2)
Sat., Sept. 17 vs. Troy* (3:30 p.m., ESPN+)
Sat., Sept. 24 vs. James Madison* (Black Saturday)
Sat., Oct. 1 vs. The Citadel (Family Weekend)
Sat., Oct. 8 at Texas State*
Wed., Oct. 19 vs. Georgia State* (7:30 p.m., ESPN2)
Sat., Oct. 29 vs. Robert Morris (Homecoming)
Thurs., Nov. 3 at Coastal Carolina* (7:30 p.m., ESPN)
Sat., Nov. 12 at Marshall*
Sat., Nov. 19 vs. Old Dominion* (Senior Day)
Sat., Nov. 26 at Georgia Southern*
* Sun Belt game
All times Eastern
Home game in bold