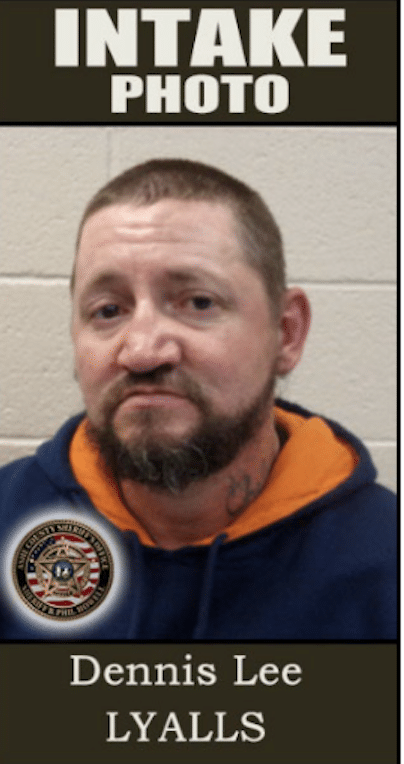 Last Updated on May 2, 2023 1:23 pm
WEST JEFFERSON, N.C. – Ashe County Sheriff B. Phil Howell announces the arrest of 41-year-old Dennis Lee Lyall of West Jefferson. Dennis had an outstanding order for arrest for possession of a firearm by a felon.
On April 23rd, 2023, Sheriff's Deputy Wingler was attempting to serve outstanding arrest warrants on Dennis Lyall, who fled on foot after an altercation with law enforcement.
The subject ran through the neighborhood and passed through several open fields attempting to evade arrest. Sgt. Milam and Deputy Baldwin, with WIPD officers, arrived to aid in the search. Deputies checked and cleared a nearby residence to ensure Lyall was not utilizing the place to hide and continued the search.
The search led officers to a Christmas tree field, where Deputy Wingler noticed Lyall hiding under a very large tree. Lyall was then placed under arrest and transported to the Ashe County Detention Center.
Dennis Lyall, 41, of West Jefferson, NC, was booked on the following charges at the Ashe County Detention Center under a $50,000 secured bond.
• Resisting Public Officer
Felony Possess Controlled Substance Prison / Jail Premises
Felony Possession of Firearm by Felon