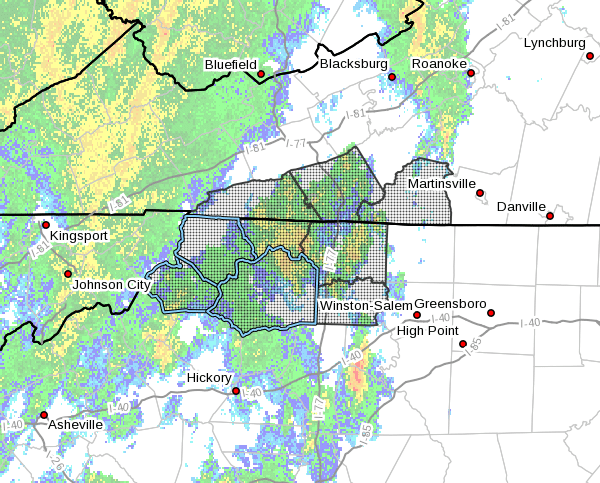 Last Updated on May 31, 2022 11:42 am
Event cancelled. Flood Watch from 5/27/2022 10:49 AM to 12:00 PM EDT for Wilkes County, NC, Watauga County, NC, Ashe County, NC.
---
NCZ001>003-018>020-VAZ015-016-032-270915-
/O.NEW.KRNK.FA.A.0002.220527T0400Z-220527T1600Z/
/00000.0.ER.000000T0000Z.000000T0000Z.000000T0000Z.OO/
Ashe-Alleghany NC-Surry-Watauga-Wilkes-Yadkin-Grayson-Carroll-
Patrick-
Including the cities of Wilkesboro, Yadkinville, Whitetop, Sparta,
Volney, West Jefferson, Galax, Dobson, Boone, Stuart, Independence,
and Troutdale
903 PM EDT Thu May 26 2022
…FLOOD WATCH IN EFFECT FROM MIDNIGHT EDT TONIGHT THROUGH FRIDAY
MORNING…
WHAT…Flash flooding caused by excessive rainfall is possible.
WHERE…Portions of North Carolina and southwest Virginia,
including the following areas, in North Carolina, Alleghany NC,
Ashe, Surry, Watauga, Wilkes and Yadkin. In southwest Virginia,
Carroll, Grayson and Patrick.
WHEN…From Midnight EDT tonight through Friday morning.
IMPACTS…Excessive runoff may result in flooding of creeks,
streams, and other low-lying and flood-prone locations.
ADDITIONAL DETAILS…
Heavy rain crossed the region Thursday evening to help
saturate the ground. Additional heavy rain overnight into
Friday morning may prompt flash flooding, especially in areas
nearest the crest of the Blue Ridge and along and near the
Interstate-77 corridor.
http://www.weather.gov/safety/flood
PRECAUTIONARY/PREPAREDNESS ACTIONS…
You should monitor later forecasts and be prepared to take action
should Flash Flood Warnings be issued.