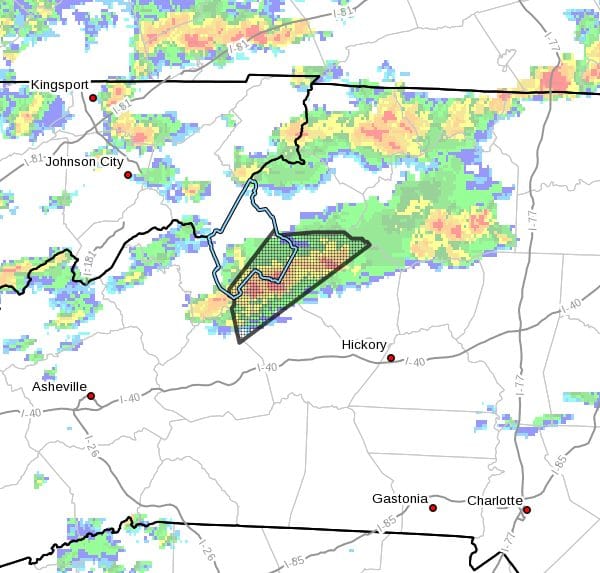 Last Updated on July 18, 2021 2:55 pm
NCC011-023-027-111-182045-
/O.NEW.KGSP.FA.Y.0060.210718T1850Z-210718T2045Z/
/00000.N.ER.000000T0000Z.000000T0000Z.000000T0000Z.OO/
Avery NC-Burke NC-Caldwell NC-McDowell NC-
250 PM EDT Sun Jul 18 2021
The National Weather Service in Greenville-Spartanburg has issued a
Flood Advisory for…
Southeastern Avery County in western North Carolina…
Northwestern Burke County in western North Carolina…
Northwestern Caldwell County in western North Carolina…
Northeastern McDowell County in western North Carolina…
Until 445 PM EDT.
At 250 PM EDT, Doppler radar indicated heavy rain due to
thunderstorms. Minor flooding is ongoing or expected to begin
shortly in the advisory area. Between 1 and 2 inches of rain have
fallen.
High water levels and minor flooding will be possible on Cooper
Branch, Cold Water Creek, Johns River, Cook Branch, and Wilson
Creek.
Some locations that will experience flooding include…
Blowing Rock In Caldwell County, B.R. Parkway-Linville Falls To
Grandfather, Grandfather Mountain State Park, Linville Falls, B.R.
Parkway-Little Switzerland To Linville, Edgemont, Globe, Upton,
Jonas Ridge, Pineola, Linville, Ashford and North Cove.
Additional rainfall amounts up to 1 inch are expected over the area.
This additional rain will result in minor flooding.
PRECAUTIONARY/PREPAREDNESS ACTIONS…
When it is safe to do so, please report flooding or landslides
threatening roads or property to the National Weather Service
Greenville-Spartanburg by calling toll free, 1, 800, 2 6 7, 8 1 0 1,
by posting on our Facebook page, or via Twitter using hashtag
NWSGSP. Your message should describe the specific location where
impacts occurred and the depth of flooding observed.
Turn around, don't drown when encountering flooded roads. Most flood
deaths occur in vehicles.
In hilly terrain there are hundreds of low water crossings which are
potentially dangerous in heavy rain. Do not attempt to cross flooded
roads. Find an alternate route.