Last Updated on October 1, 2015 2:40 pm
A Flash Flood Watch is in effect from Friday morning through Sunday evening for Watauga County. According to the National Weather Service, 2 to 5 inches of rain with locally higher amounts along and on the east slopes of the Blue Ridge are expected. The Weather Service also notes that in addition to the threat for flash flooding area rivers are also likely to flood.
Since Thursday (Sept 24) Boone has officially recorded 9.6 inches of rain, with minor flooding already taking place on Tuesday and Wednesday.
National Weather Service video update from Thursday morning
Thursday morning update from Brad Panovich – NBC Charlotte
Thursday Weather Vlog: 10/1/2015Thursday Weather VLOG: Good news bad news situation here as the threat from #Joaquin is going away, but the threat for heavy rain going up. Let me explain why in this morning's video. #cltwx #ncwx #scwx

Posted by Brad Panovich Meteorologist on Thursday, October 1, 2015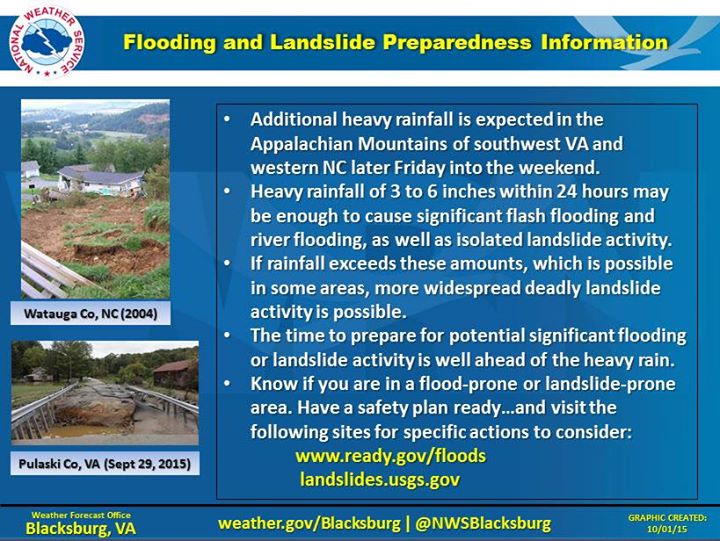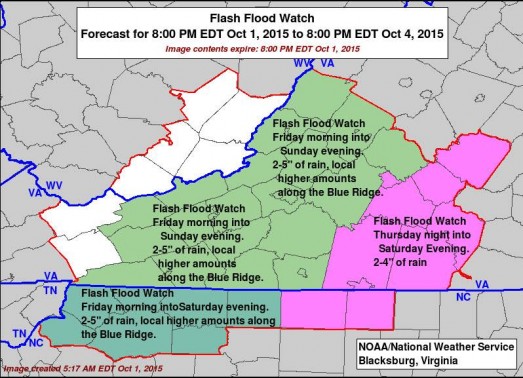 Saturday night 8pm, fire house of moisture plowing right into the Southeast facing slopes of the mountains. #wncwx pic.twitter.com/fZoDQsPbEY

— Brad Panovich (@wxbrad) October 1, 2015