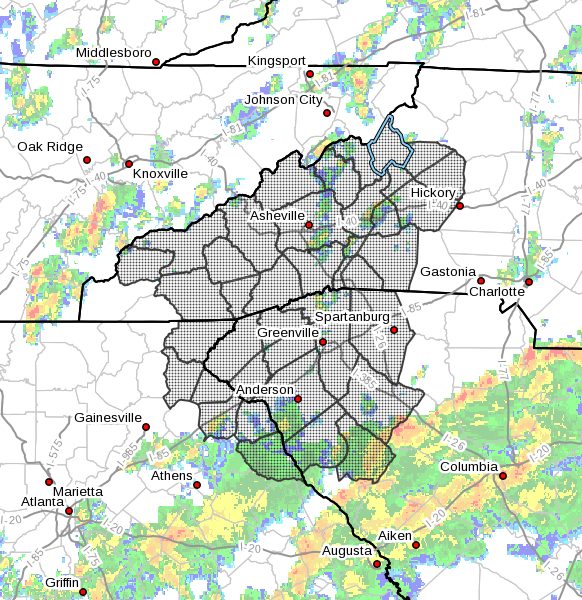 Last Updated on August 17, 2021 6:01 am
GAZ010-017-018-026-NCZ033-049-050-052-053-059-065-505-506-508-SCZ001-
004-006-011-012-171700-
/O.EXT.KGSP.FF.A.0007.210817T0848Z-210818T1200Z/
/00000.0.ER.000000T0000Z.000000T0000Z.000000T0000Z.OO/
Rabun-Habersham-Stephens-Franklin-Avery-Yancey-Mitchell-Haywood-
Buncombe-Northern Jackson-Henderson-McDowell Mountains-Eastern
McDowell-Greater Rutherford-Oconee Mountains-Greater Oconee-Greater
Greenville-Abbeville-Laurens-
Including the cities of Laurens, Calhoun Falls, Banner Elk,
Tuckasegee, Greenville, Mauldin, Nebo, Forest City, Burnsville,
Waynesville, Dysartsville, Gumlog, Simpsonville, Woodlawn, Canton,
Westminster, Newland, Celo, Ashford, Cullowhee, Cruso, Hollywood,
Ingalls, East Flat Rock, Toccoa, Clarkesville, Walhalla, Taylors,
Old Fort, Boydville, Etowah, Sylva, Mountain City, Clayton,
Asheville, Glenwood, Waterville, Abbeville, Marion, Cove Creek,
Mountain Rest, Rutherfordton, Spruce Pine, Spindale, Pine Mountain,
Candler, Lavonia, Franklin Springs, Royston, Poplar, Swiss,
Micaville, Greer, Black Mountain, Dana, Busick, Seneca, Clinton,
Tuxedo, Demorest, Canon, Fork Shoals, Fero, Oakway, Ramseytown,
Hendersonville, Fletcher, Cornelia, Berea, Baldwin, and Sugar Hill
448 AM EDT Tue Aug 17 2021
…FLASH FLOOD WATCH NOW IN EFFECT THROUGH WEDNESDAY MORNING…
The Flash Flood Watch is now in effect for
Portions of northeast Georgia, western North Carolina and upstate
South Carolina, including the following areas, in northeast
Georgia, Franklin, Habersham, Rabun and Stephens. In western North
Carolina, Avery, Buncombe, Eastern McDowell, Greater Rutherford,
Haywood, Henderson, McDowell Mountains, Mitchell, Northern Jackson
and Yancey. In upstate South Carolina, Abbeville, Greater
Greenville, Greater Oconee, Laurens and Oconee Mountains.
Through Wednesday morning.
Tropical moisture has set up over the region in advance of
Tropical Depression Fred, and moisture will continue to increase
across the region through the day and into tonight. As the
remnants of Fred move northward over the southern Appalachians,
showers and thunderstorms will become increasingly widespread and
these will have the potential to produce excessive rainfall during
this period. New rainfall amounts will vary widely, ranging from 2
to 3 inches in the lower Piedmont, to 3 to 5 inches across the
foothills, to 5 to 8 inches in many mountain locations. Isolated 8
to 10 inch totals will be possible along the favored upslope areas
of the eastern slopes of the extreme southern Appalachians.
This very heavy rainfall will push many streams, creeks, and
rivers out of their banks and likely flood some roadways. Deep
ponding of water of in low-lying and poor drainage areas may also
flood some roadways. Landslides may develop along steeply sloped
terrain, with trees sometimes falling in these zones well after
the rainfall ends.
PRECAUTIONARY/PREPAREDNESS ACTIONS…
Rainfall of more than five inches in similar storms has been
associated with an increased risk of landslides and rockslides. If
you live on a mountainside or in a cove at the base of a mountain,
especially near a stream, be ready to leave in advance of the storm
or as quickly as possible should rising water, moving earth, or
rocks threaten. Consider postponing travel along mountain roads
during periods of heavy rainfall.