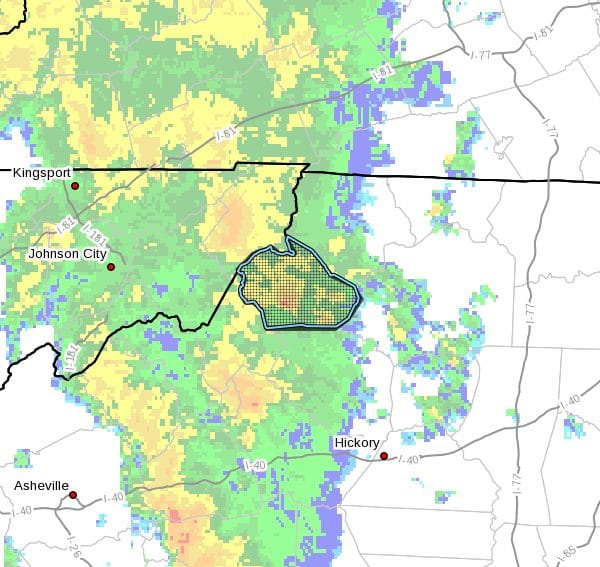 Last Updated on August 17, 2021 7:19 pm
NCC189-180400-
/O.NEW.KRNK.FF.W.0029.210817T2313Z-210818T0400Z/
/00000.0.ER.000000T0000Z.000000T0000Z.000000T0000Z.OO/
BULLETIN – EAS ACTIVATION REQUESTED
Flash Flood Warning
National Weather Service Blacksburg VA
713 PM EDT Tue Aug 17 2021
The National Weather Service in Blacksburg has issued a
Flash Flood Warning for…
Watauga County in northwestern North Carolina…
Until midnight EDT.
At 713 PM EDT, Doppler radar indicated thunderstorms producing
heavy rain across the warned area. Between 1.5 and 3 inches of
rain have fallen over the last 24 hours. The expected rainfall
rate between now and 10:00 PM is expected to range from 1.0 to as
much as 5 inches in 1 hour. Additional rainfall amounts of 2 to 4
inches are possible in the warned area…resulting in potential
rainfall totals of 3.5 to 7.0 inches. Flash flooding is expected
to begin shortly.
HAZARD…Flash flooding caused by excessive tropical rainfall.
SOURCE…Radar.
IMPACT…Flash flooding of small creeks and streams, urban
areas, highways, streets and underpasses as well as
other poor drainage and low-lying areas.
Some locations that will experience flash flooding include…
Boone… Blowing Rock…
Beech Mountain… Sugar Grove…
Foscoe… Todd…
Deep Gap…
This includes the following locations…
Appalachian State University.
This includes the following streams and drainages…
Brushy Fork, Elk Creek, George Gap Branch, Beech Creek, Beaverdam
Creek, Flat Branch, Craborchard Creek, Cove Creek, Fall Creek,
Dugger Creek and Dutch Creek.
PRECAUTIONARY/PREPAREDNESS ACTIONS…
Turn around, don't drown when encountering flooded roads. Most flood
deaths occur in vehicles.
In hilly terrain there are hundreds of low water crossings which are
potentially dangerous in heavy rain. Do not attempt to cross flooded
roads. Find an alternate route.