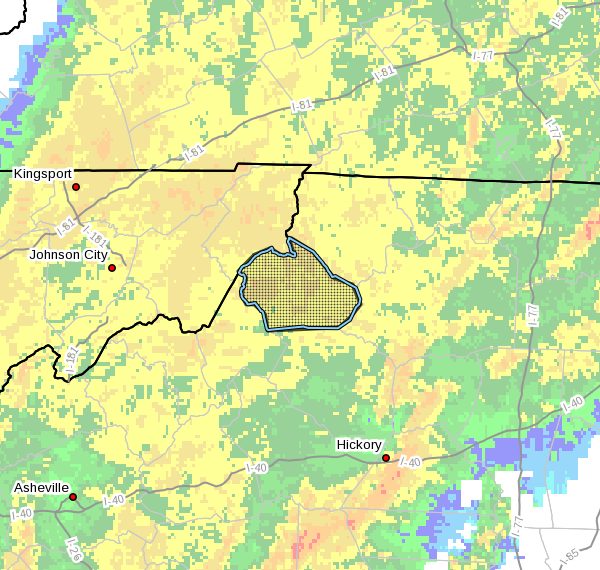 Last Updated on April 13, 2020 5:49 pm
BULLETIN – EAS ACTIVATION REQUESTED
Flash Flood Warning
National Weather Service BLACKSBURG VA
345 AM EDT Mon Apr 13 2020
…FLASH FLOOD EMERGENCY FOR BOONE…BLOWING
ROCK…AHO…Rutherford…AND ADJACENT PORTIONS OF WATAUGA COUNTY…
The National Weather Service in BLACKSBURG has issued a
* Flash Flood Warning for…
Watauga County in northwestern North Carolina…
* Until 945 AM EDT Monday.
* At 341 AM EDT, law enforcement reported that heavy rainfall had resulted in extensive flooding across much of eastern Watauga
County, but especially in the Boone and Blowing Rock areas. Fire Department and Rescue Officials report that water rescues were taking place in Boone, several homes were flooded, and water was rising rapidly on area creek and streams.
* Radar estimates that rainfall during the heavy rain falling e past 12 hours across this region has been in the 3-4 inch range with rainfall amounts of 1-2 inches expected to continue for the next 2-
3 hours at least. Considerable flash flooding is already in progress.
THIS IS A FLASH FLOOD EMERGENCY FOR Boone, Blowing Rock, and adjacent areas of eastern Watauga County. This is a PARTICULARLY
DANGEROUS SITUATION. SEEK HIGHER GROUND NOW!
HAZARD…Life threatening flash flooding. Heavy rain producing flash flooding.
SOURCE…Law enforcement.
IMPACT…This is a PARTICULARLY DANGEROUS SITUATION. SEEK HIGHER
GROUND NOW! Life threatening flash flooding of low water crossings, small creeks and streams, urban areas, highways, streets and underpasses.
* Some locations that will experience flooding include…
Boone…
Blowing Rock…
Beech Mountain…
Foscoe…
Sugar Grove…
Deep Gap…
and Todd.
This includes the following streams and drainages…
Stony Fork, Meat Camp Creek, Vanderpool Creek, Watauga River and
Craborchard Creek.
PRECAUTIONARY/PREPAREDNESS ACTIONS…
Move to higher ground now. This is an extremely dangerous and life-threatening situation. Do not attempt to travel unless you are fleeing an area subject to flooding or under an evacuation order.
Be especially cautious at night when it is harder to recognize the dangers of flooding.
A Flash Flood Warning means that flooding is imminent or occurring.
If you are in the warned area move to higher ground immediately.
Residents living along streams and creeks should take immediate precautions to protect life and property.
When it is safe to do so, please send your reports of flooding,
including mudslides or flooded roads, to the National Weather Service
by calling toll free at 1…8 6 6…2 1 5…4 3 2 4. Reports and
pictures can also be shared on the National Weather Service
Blacksburg Facebook page and on Twitter.