Last Updated on October 2, 2022 5:46 pm
The large storm system with high winds and very heavy rain to the High Country on Wednesday January 30 also left a historical mark, the first ever Flash Flood Emergency issued for Watauga.
WataugaRoads.com received the first reports of flooding at 3:53pm as the Boone Mall parking lot facing 321 was starting to flood, by 4:05pm a car was stranded in that lot and police blocked off the area at 4:10pm.
At 4:19pm the National Weather Service issued a Flash Flood Warning, High Wind Warnings and Flood Watches had already been issued for the area earlier in the day.
As the rains continued not only did flooding at the mall parking lot get more intense, but the main intersection at Wendy's became more like a small pond than a major intersection. Boone Police sent out a tweet at 4:50pm that water was standing in the roadway.
*for pictures, videos and a real time account as events were unfolding see this post and this post*
At 5:45pm the National Weather Service office out of Blacksburg Virginia issued the Flood Flood Emergency.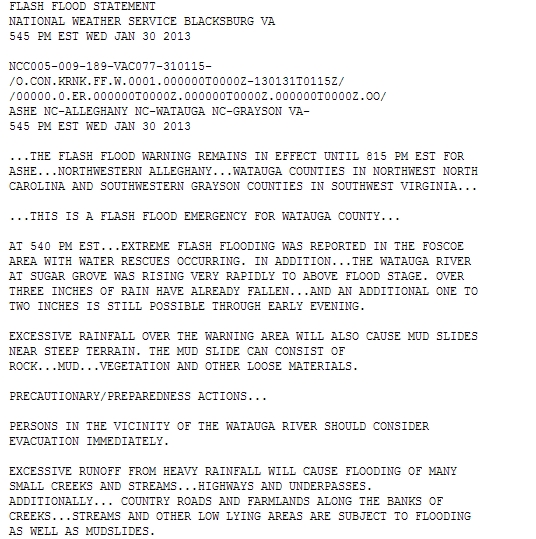 Phil Hysell, the Warning Coordination Meteorologist for the Blacksburg office, told WataugaRoads.com "the Flash Flood Emergency issued for Watauga County was the first our office has ever issued. We issue this rare message for flash flooding situations that present an immediate and very serious threat to life and property".
Foscoe Fire Department had already been dispatched for a swift water rescue at 5:37pm, shortly after that EMS officials were dispatched to the Bamboo area for another rescue. Boone Fire and other local EMS crews also started evacuations at the Bavarian Village apartment complex soon after.
As rains continued numerous roads in Boone were closed due to flooding, cars were stranded and local emergency officials quickly had their hands full.
Flash Flood Emergency statements from the Weather Service are rare. Flash Flood Emergencies are issued when one or more of the following are occurring or expected:
1. Water has rapidly risen or will rapidly rise to levels where people who are ordinarily in safe locations during previous flash flood events are now placed in life-threatening situations.
2. Multiple swift water rescue teams have been or are being deployed in response to flash flooding.
3. Stream gauges, indicate flood waters have risen rapidly to at least major levels or flood waters have risen to levels rarely if ever seen.
4. When a state of emergency has been declared and we have confirmed that rapidly rising flood waters are placing or will place people in life-threatening situations.
Hysell went on to add "Because multiple swift water rescues were reported, we decided to issue the Flash Flood Emergency message for Watauga County to heighten the awareness of this danger".
Just on that Wednesday the Watauga Medical Center reporting station recorded 5.60 inches of rain, while the NWS Cooperative Observer Program (COOP) station measured 5.79 inches.