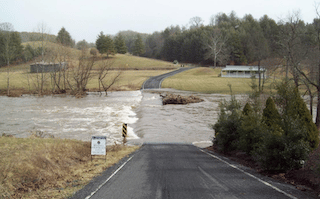 Last Updated on September 6, 2022 2:38 pm
NORTH WILKESBORO – Nearly 30 bridges in six northwest North Carolina counties will be renovated or replaced, thanks to U.S. Department of Transportation grant funds from the Bipartisan Infrastructure Law.
The $10.7 million in Rebuilding American Infrastructure with Sustainability & Equity, or RAISE, grant funds will upgrade or replace 28 bridges in the N.C. Department of Transportation's Division 11. The bridges are in Alleghany, Ashe, Avery, Caldwell, Watauga and Wilkes counties.
Twenty-six of the bridges are low-water bridges especially prone to flooding during significant rainfall because they are low elevation structures close to rivers or streams. Officials plan to design new bridges or renovate existing bridges so they are higher from the ground and less susceptible to overwash during heavy rain. The new or improved bridges will also be designed to be sturdier and capable of handling more weight than their predecessors.
"Improving these bridges will increase safety, help connect our communities during emergencies, help move goods and services in our rural areas and improve the overall quality of life," said Michael Poe, the Division 11 engineer for NCDOT. "We are thankful for the funding and look forward to putting every penny to good use here in northwestern North Carolina."
The USDOT announced earlier this month that 166 projects nationwide, including the bridge projects in North Carolina, would receive funds from the $2.2 billion in RAISE grants.
The bridge projects will also accommodate other agencies bringing fiber lines to rural areas. The combination will boost economic development and create jobs in northwestern North Carolina.