Last Updated on March 2, 2015 6:11 pm
February 2015 became the coldest February in Boone for the modern era, and the second coldest February on record since 1929.
With an average mean temperature of 25.5 degrees, 2015 beat out 2014 by 8.4 degrees to become the coldest since 1980 and missed by 1.02 degrees tying the all time mark set in 1958 (24.48).
The average low temperature of 15 degrees beat out 2010 by 3.1 degrees (18.1) to become the coldest on record since 1929.
The average high temperature for the month was 36.1 degrees placing it second coldest since 1980, behind 2010 at 34 degrees, and third coldest since 1929 behind 1958 (33.11) and 1978 (36.04 *there is one day of data missing for 1978 which would affect the true total*).
It is of note that both February 1947 and 1948 are missing 26 days or more of data, which could have altered record outcomes had it been intact.
*In keeping track of weather records (temperatures, rainfall, snowfall, wind) it's important to note that the records for Boone relies on three different sources. Boone COOP station 310977 from 1929-1980, Boone 1Se 310982 from June 1980-present and Watauga Medical Center reporting station KTNB.*
Graphic: Southeast Climate Center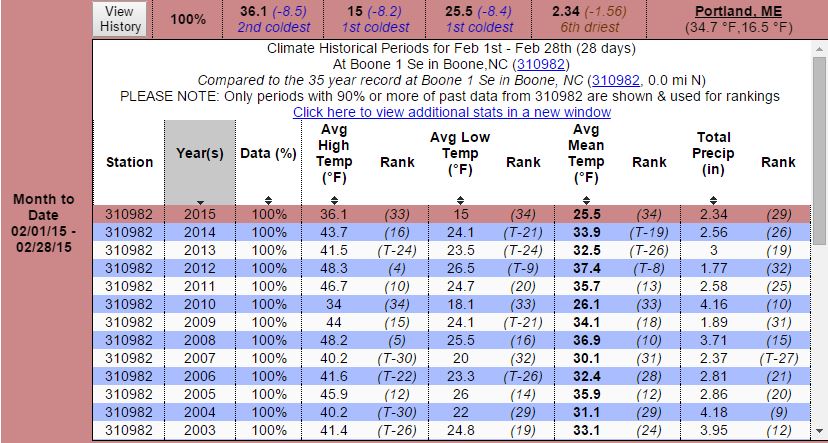 On Thursday February 19 an official mark of -4 was recorded by the Boone 1Se reporting station. While the reading became a new record overall for Boone, it just narrowly missed by two degrees setting a countywide mark.
On Friday February 20 a reading of -5 was recorded, which surpassed the previous mark for Boone by 9 degrees, and the previous mark for the county by 7 degrees.
Graphics: State Climate Office


For reference here are the coldest temperatures for the month of February

Though not used for official temperature records, for the month from the Watauga Medical Center reporting station:
High: 62.6 on Sunday Feb 8
Low: -4.18 Thursday, Feb 19, -3.64 Friday Feb 20, 0.5 Sunday Feb 15
Peak Wind Gust: 62 mph on Sunday Feb 15 at 4:35am
Highest Rainfall Amount: .34 on Sunday Feb 1
Other items of note:
Greatest one day temperature swing: Wednesday Feb 11 from 18.5 to 50.36 (difference of 31.86 degrees).
Number of days with highs in the single digits – 1, teens – 1, 20s – 6, 30s – 9, 40s – 6 , 50s – 4, 60s – 1.
Graphics: Iowa State University of Science and Technology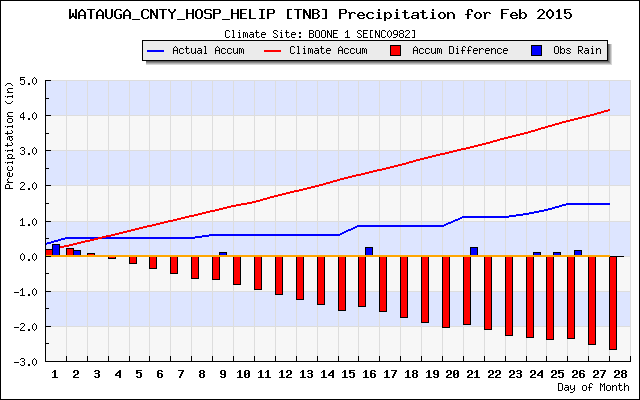 3 inches of snow in Boone became the 5th most for a February 24. Graphic: State Climate Office

7 inches in Boone on February 26 became the most for both the town and the county for that date. Graphic: State Climate Office

Graphics: National Weather Service
Snow depth slideshow