Last Updated on October 2, 2022 5:50 pm
The largest snow storm to hit North Carolina in sometime certainly left its mark. 7-10 inches across Watauga County, 7-14 inches across Ashe County, and up to 16 inches in Wilkes County.
This video shows several locations around the High Country covered with all the snow. Video used by permission from Nelson Aerials. Check out more of their work at NelsonAerials.com and on Facebook.
The snowfall on Thursday February 13 became the 3rd largest snowfall for that date in Watauga County, bypassing the previous mark by 2 inches.
For the same day 7.7 inches in Ashe County became the 5th highest mark for that date
For the same day 8.7 inches in Wilkes County became the 2nd highest mark for that date.
*Graphics: State Climate Office of North Carolina*
The graphic below shows the snowfall totals from the NWS Blacksburg forecast region from 7am Wednesday Feb 12-7pm Thursday Feb 13.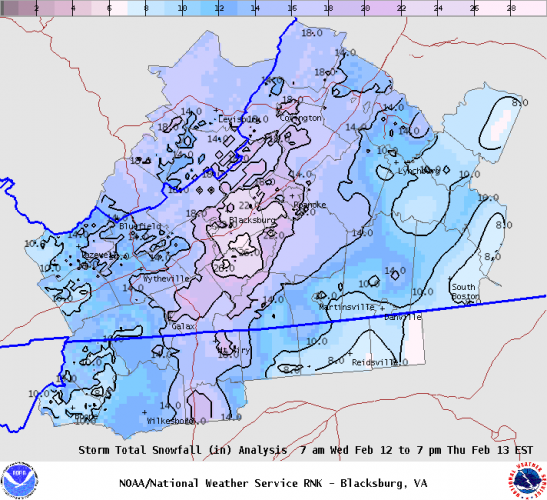 Nearly every part of North Carolina got snow as this graphic from the NWS Raleigh office shows.
Slideshow of the snow depth from Feb 11-14
Snowfall totals as reported to the NWS Blacksburg office.
 

********************STORM TOTAL SNOWFALL********************

LOCATION          STORM TOTAL     TIME/DATE   COMMENTS                   
                     SNOWFALL           OF 
                     /INCHES/   MEASUREMENT

NORTH CAROLINA

...ALLEGHANY COUNTY...
   GLADE VALLEY          15.0   809 PM  2/13  TRAINED SPOTTER         
   3 E GLADE VALLEY      14.0   230 PM  2/13  TRAINED SPOTTER         
   5 S SPARTA            12.0   315 PM  2/13  TRAINED SPOTTER         

...ASHE COUNTY...
   WEST JEFFERSON        14.5   200 PM  2/13  COUNTY OFFICIAL         
   BALDWIN               11.5   700 PM  2/13  AMATEUR RADIO           
   11 NW JEFFERSON       11.0   700 PM  2/13  AMATEUR RADIO           
   ASHLAND               10.0   550 PM  2/13  SNOW HAD ENDED          
   4 SW WEST JEFFERSON    9.0   700 PM  2/13  AMATEUR RADIO           
   2 S JEFFERSON          9.0   100 PM  2/13  BEAVER CREEK.           
   2 S WEST JEFFERSON     9.0   700 PM  2/13  AMATEUR RADIO           
   7 N JEFFERSON          9.0   700 PM  2/13  CRUMPER                 
   FLEETWOOD              8.8  1208 PM  2/13  AMATEUR RADIO           
   1 S LANSING            8.2   700 PM  2/13  AMATEUR RADIO           
   1 ESE WEST JEFFERSON   7.8   640 PM  2/13  PUBLIC                       

...SURRY COUNTY...
   BOONES HILL           21.0   215 PM  2/13  8 INCHES SINCE 11AM     
   1 NE FLAT ROCK        20.0   249 PM  2/13  PUBLIC                  
   1 SE SALEM            19.6   600 PM  2/13  PUBLIC                  
   2 S DOBSON            17.0   230 PM  2/13  TRAINED SPOTTER         
   LOW GAP               17.0   530 PM  2/13  PUBLIC                  
   MOUNT AIRY            17.0  1253 PM  2/13  AMATEUR RADIO           
   ELKIN                 17.0   118 PM  2/13  BROADCAST MEDIA         
   5 W MOUNT AIRY        16.0   145 PM  2/13  PUBLIC                  
   2 E LADONIA           12.0   615 PM  2/13  TRAINED SPOTTER         
   5 SW ARARAT           11.5   145 PM  2/13  COCORAHS                

...WATAUGA COUNTY...
   2 W BOONE              9.0   400 PM  2/13  TRAINED SPOTTER         
   VALLE CRUCIS           9.0   248 PM  2/13  TRAINED SPOTTER         
   4 SE BOONE             8.8   310 PM  2/13  TRAINED SPOTTER         
   VILAS                  8.0   345 PM  2/13  TRAINED SPOTTER         
   5 E BOONE              8.0  1220 PM  2/13  PUBLIC                  
   2 ESE SUGAR GROVE      7.0   100 PM  2/13  PUBLIC                  

...WILKES COUNTY...
   6 WNW TRAPHILL        16.0   314 PM  2/13  PUBLIC                  
   2 S WILKESBORO        13.0   100 PM  2/13  AMATEUR RADIO           
   3 NE NORTH WILKESBOR  12.0   130 PM  2/13  PUBLIC                  
   1 N NORTH WILKESBORO  12.0  1259 PM  2/13  PUBLIC                  
   3 E HAYS              12.0   218 PM  2/13  PUBLIC                  

...YADKIN COUNTY...
   BOONVILLE             19.0   416 PM  2/13  PUBLIC                  
   JONESVILLE            17.5   100 PM  2/13  PUBLIC                  
   2 WSW JONESVILLE      17.5   220 PM  2/13  PUBLIC                  
   HAMPTONVILLE          17.0  1200 PM  2/13  PUBLIC                  
   EAST BEND             12.0   200 PM  2/13  PUBLIC