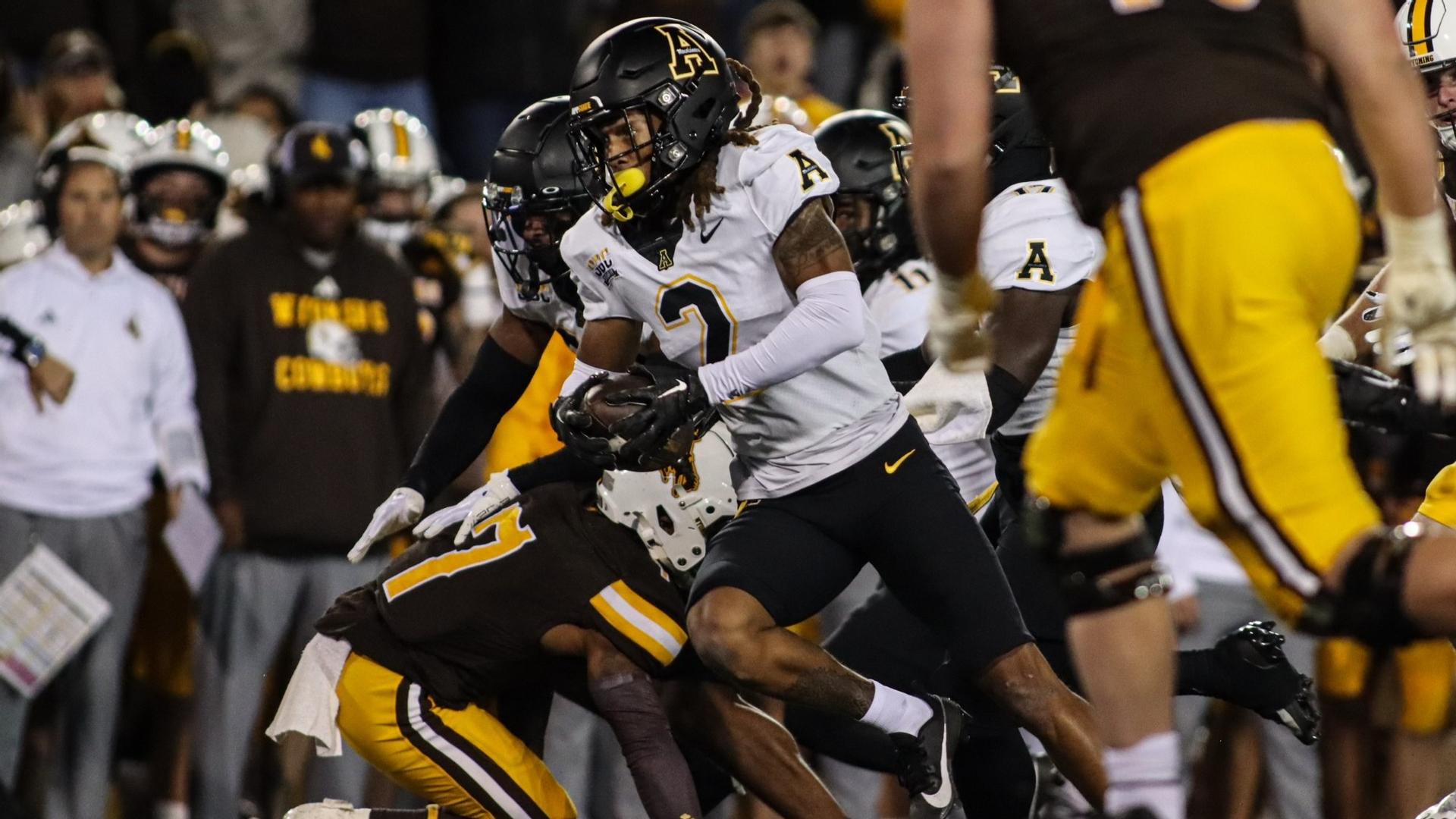 Last Updated on September 24, 2023 11:42 am
LARAMIE, Wyo. — App State cornerback Tyrek Funderburk's 18-yard interception return for a touchdown following four first-half field goals from Michael Hughes extended App State's fourth-quarter lead to a two-score margin, but Wyoming returned a blocked field goal for a go-ahead touchdown with 1:52 left and intercepted a pass at the Cowboys' 6-yard line with 12 seconds left to seal a 22-19 win Saturday night.

Funderburk's defensive touchdown gave the Mountaineers (2-2) a 19-7 advantage early in the fourth quarter of their nonconference finale. After a Mitchell Lake punt had pinned Wyoming at its 5 early in the fourth quarter, a bobbled swing pass that was knocked forward into the air by the back ended up in the hands of Funderburk, who raced untouched to the end zone.

The Cowboys (3-1) responded immediately with a 75-yard touchdown run up the middle by Harrison Waylee on the first play of the next series. App State answered with a clock-chewing, grind-it-out series that lasted 18 plays, covered 55 yards and ate up 9 minutes, 32 seconds.

Wyoming blocked a 47-yard field goal that could have pushed the App State advantage to 22-14 with less than two minutes remaining. Instead, DeVonne Harris blocked the attempt before Jakorey Hawkins scooped up the loose ball and raced 62 yards in the other direction for a touchdown. A successful two-point try gave the Cowboys a three-point lead.

App State moved from its 31 to the Wyoming 20 in the closing minute, with a defensive pass interference setting up first down with 17 seconds left, but Wrook Brown picked off a deep throw in the middle of the field.
Nate Noel led the offense by rushing for 107 yards on a career-high 30 carries, and Joey Aguilar threw for 200 yards. Overall, App State finished with large advantages in first downs (27-7), total yards (417-208, including just 31 through the air for Wyoming) and possession time (40:25-19:35).
In the first half alone, Hughes tied his single-game high of four field goals, ending the half with a career-long kick of 50 yards for a 12-7 lead at the break.

A final-minute sack from Shawn Collins and Montez Kelley helped set up a punting situation from Wyoming, and the Mountaineers took over at midfield with 15 seconds left following the 24-yard punt. A second-down throw of 18 yards to Kaedin Robinson led App State to use its final timeout with three seconds left, and Hughes made the long kick before celebrating enthusiastically with holder Conner Maynard and other teammates.

Hughes' first three field goals covered 25, 28 and 20 yards after the Mountaineers used a trio of long drives to move inside the Wyoming 15-yard line. Those short kicks capped possessions of 12-plus plays that covered 67, 87 and 87 yards, including App State's first two drives of the game.

The Mountaineers' one lost fumble at the App State 26 to set up a short scoring drive for Wyoming, which also made a fourth-down stop later in the half, contributed to a close halftime score after two quarters in which the Mountaineers had sizable advantages in first downs (15-4), total yards (256-97) and possession (19:58-10:02).

Wyoming quarterback Andrew Peasley scored on a 9-yard keeper as the Cowboys capitalized on a third-and-seven situation early in the second quarter, but the Mountaineers' defense held strong otherwise, with Nate Johnson recording a third-down sack for a 14-yard loss. On a third-and-1 run from close to midfield, App State forced another punt thanks to an explosive stop for a 2-yard loss from linebacker Trevor Moffitt.

Andrew Parker Jr. added a sack during a scoreless third quarter.