Last Updated on October 2, 2022 5:25 pm
*For updates this fall be sure to bookmark the Watauga Roads Fall Color Report page*
The summer of 2013 will go down as the wettest on record for the area, and for many residents it will go down as one that was not a summer at all. Attention is turning quickly toward fall and what might it bring.
Dr. Howard Neufeld is not only Professor of Plant Eco-physiology at Appalachian State University, but he is also known as The Fall Color Guy. Along with sharing his expertise with the NC Division of Tourism each fall, in 2012 he allowed WataugaRoads.com to share his insight and information.
Once again in 2013 WataugaRoads.com is teaming up with The Fall Color Guy to provide information as the colors start changing. On Monday of this week (July 29, 2013) WataugaRoads.com asked the question about what we might see with fall colors this year due to the amount of rain received.
Dr.Neufeld replied:
"1. People think fall colors are good when they last a long time, and have plenty of brilliant reds interspersed with the oranges and yellows. So, the quality will depend on how much "redness" we have this fall.
2. Trees tend to make more red colors (anthocyanins) in the fall when it's cool and sunny, and if we have a slight but not severe drought. This year, cloudy, rainy, no drought!
3. Sunny days means more photosynthesis, and more sugars produced in the leaves, and sugars induce anthocyanin production.
4. A slight drought impairs uptake of nitrogen (we think) and some experiments suggest that plants low on N make more anthocyanins.
5. If it is rainy, then there is less photosynthesis, fewer sugars, and more nitrogen uptake (soils are wetter for longer), and hence, trees may make fewer anthocyanins.
6. So, if the weather keeps consistent, we may see duller red colors this fall. The oranges and yellows should be as usual, as they do not depend as much on light or drought.
7. How long the fall color will last is another thing, and also, it is unknown if a wet summer will change the timing of fall colors.
8. Usually, fall colors peak around Oct 11-14 in the Boone area; sooner by a few days up to a week at higher elevations, later at lower ones. Nice colors can stick around for a week or more, although the peak usually comes and goes in just a few days, weather permitting (no high winds for example).
9. If the wet conditions extend the growing season, then the initiation of fall colors might be delayed by several days, or, if trees decide that they've got all they need for this season, they may initiate fall colors early instead. We just don't know at this point. It will also depend on what the weather does in late August through September."
For a look at what happened in 2012 check out the WataugaRoads.com Fall Color Report page. And check out The Fall Color Guy on Facebook and at his ASU page where you can also read about the science of fall colors.
Aug 20, 2013 on ASU campus. Photo: Kara Harmon

Aug 6, 2013. Photo: Kenneth Reece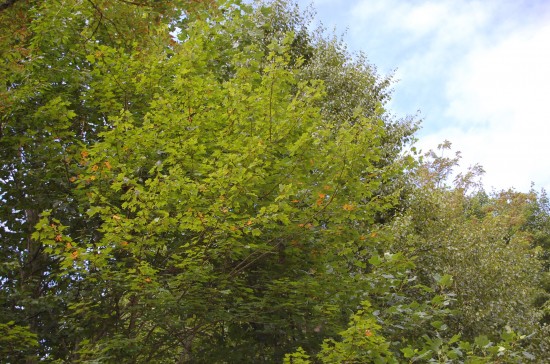 On Tuesday July 30, 2013 Anita Presnell shared these photos of some early changes from Valle Crucis Park.