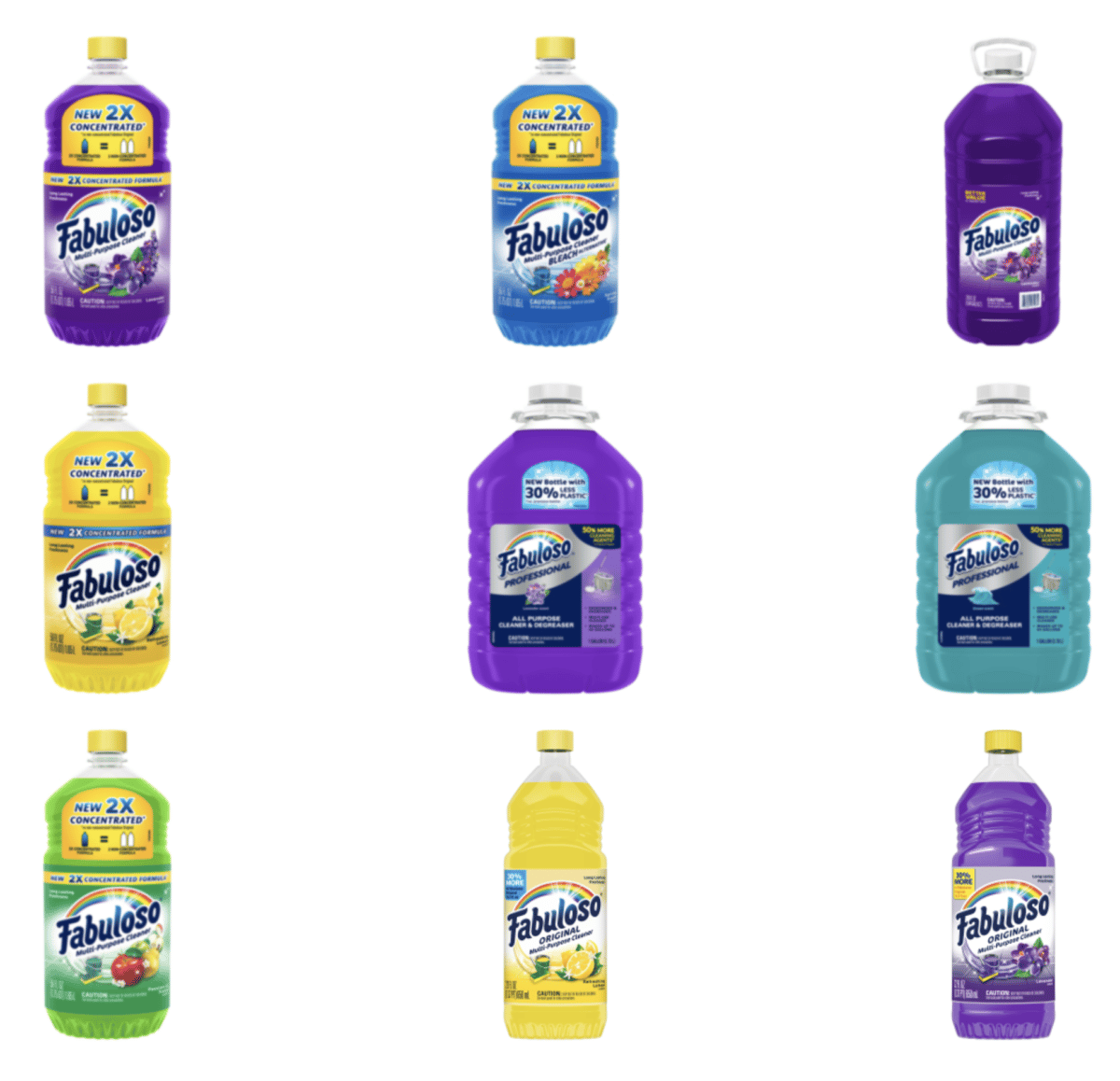 Last Updated on February 8, 2023 6:33 pm
A recall has been issued for about 4.9 million bottles of Fabuloso Multi-Purpose Cleaners.
According to a statement from Fabuloso® the recall is "because a preservative was not added at the intended levels during manufacturing. With inadequate preservative, there is a risk of bacteria growth in the recalled products. Therefore, the recalled products can contain Pseudomonas species bacteria, including Pseudomonas aeruginosa and Pseudomonas fluorescens, which are environmental organisms found widely in soil and water. People with weakened immune systems, external medical devices, or underlying lung conditions who are exposed to the bacteria face a risk of serious infection that may require medical treatment. The bacteria can enter the body if inhaled, through the eyes, or through a break in the skin. People with healthy immune systems are usually not affected by the bacteria."
The bottles were produced from December 14, 2022 through January 23, 2023, when the manufacturing issue was corrected, according to the company.
The items were sold online at Amazon.com and other websites and at Dollar General, Family Dollar, The Home Depot, Sam's Club, Walmart, and other major retailers nationwide from December 2022 through January 2023 for between $1 and $11.
Recalled items are:
Lavender Scent
Fabuloso Original Multi-Purpose Cleaner, Lavender Scent, 22 FL OZ
Fabuloso Multi-Purpose Cleaner 2X Concentrated Formula, Lavender Scent,
56 FL OZ, 128 FL OZ, 169 FL OZ
Fabuloso Multi-Purpose Cleaner, Lavender Scent, 210 FL OZ
Fabuloso Professional All Purpose Cleaner & Degreaser, Lavender Scent, 1 GALLON
Refreshing Lemon Scent
Fabuloso Original Multi-Purpose Cleaner, Refreshing Lemon Scent, 22 FL OZ
Fabuloso Multi-Purpose Cleaner 2X Concentrated Formula, Refreshing Lemon Scent,
33.8 FL OZ, 56 FL OZ, 128 FL OZ and 169 FL OZ
Passion of Fruits Scent
Fabuloso Multi-Purpose Cleaner 2X Concentrated Formula, Passion of Fruits Scent,
33.8 FL OZ, 56 FL OZ, 128 FL OZ and 169 FL OZ
Spring Fresh Scent
Fabuloso Multi-Purpose Cleaner Bleach Alternative 2X Concentrated Formula, Spring Fresh Scent, 56 FL OZ
Ocean Scent
Fabuloso Professional All Purpose Cleaner & Degreaser, Ocean Scent, 1 GALLON