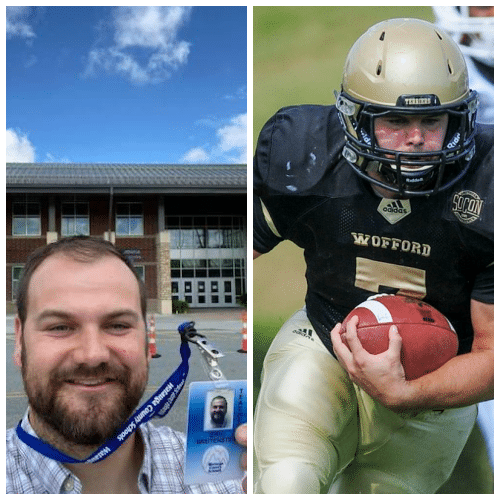 Last Updated on June 11, 2020 5:42 pm
It's been a busy week for former Watauga High football standout and record-setting Wofford career rushing leader Eric Breitenstein.
The Valle Crucis native not only returns home for a job opportunity at WHS but has also been announced as an inductee into the Southern Conference Hall of Fame.
On Tuesday, June 9th, the Watauga High Football twitter account announced that Breitenstein has taken on the role as science teacher and football offensive assistant & special teams coordinator. Then on Wednesday, June 10th, Wofford announced that Eric was named to the Hall of Fame.
At Watauga, Breitenstein was a four-year letterman, lead the Pioneers to a conference championship and runner up in the western finals during his final season. His number 2 jersey was retired at Watauga in 2013.
At Wofford his stats and achievements include:
First-team All-American in each of his final three seasons
Finished his career as Wofford's career rushing leader with 5,734 yards, a mark that ranks second in SoCon history
Set the SoCon's single-game rushing mark with 321 yards in a win over Elon in 2012 and surpassed his own single-season school record with 2,035 rushing yards that season, second-most in league history.
He first set the school record with 1,639 rushing yards in 2010, finished his career with 32 games with at least 100 yards rushing, including an NCAA-record-tying 11 straight in 2012.
He ranks fifth in SoCon history in career rushing yards per game (114.6) and all-purpose yards (5,843) and is second in career carries with 912.
Is also third in SoCon lore with six 200-yard rushing games, 65 touchdowns scored and 65 rushing touchdowns and is fifth in career scoring (390) and seventh in yards per carry (6.3).
A two-time SoCon Offensive Player of the Year and the 2012-13
SoCon Bob Waters Male Athlete of the Year
Helped the Terriers reach the FCS playoffs and finish in the top 15 in the national rankings in each of his four full seasons.
Was inducted into Wofford's Hall of Fame in 2017 and had his No. 7 jersey retired by the school in 2019.
Becomes just the second Southern Conference Hall of Fame member from Wofford, joining football coach Mike Ayers who was inducted in 2018.
Wofford released four quotes from Breitenstein:
This is an incredible honor. I am thrilled to be listed alongside some of the greatest athletes of all time, not just in our conference, but in the history of sports. Seriously, Steph Curry! Arnold Palmer! The Southern Conference has had a storied history, and as it nears the 100th year of existence, I am proud to say I had the opportunity to play in this league. I am so grateful to have had the opportunity to learn from Mike Ayers and the entire coaching staff at Wofford College, to study at Wofford College, and to work with my teammates. Maybe I could say that another way, I am grateful for the privilege.
Honestly, my life has been filled with privilege. I grew up the son of a high school football coach, the grandson of a college football coach, and the brother of a three-time college football champion. My parents traveled to every sporting event I ever played. I had every piece of equipment I ever needed, and I wanted for nothing. I was given every opportunity to succeed.
I could draw parallels of privilege in my recent life outside of football, as well. In the past three weeks, I have had the privilege to return to my home state, to buy a house, to get a new job, and to have the honor of being named a member of the Southern Conference Hall of Fame. All the while, in these same three weeks, the gross inequalities of our nation are playing out on a global stage. This juxtaposition is troubling to say the least, and I'd like to take this moment to recognize the head start I was given in life and the opportunities I have been afforded daily. I'd also like to say, none of my achievements would be possible if not for my teammates, coaches, and family. I will never fully understand the struggles my Black teammates may have faced on their way to or while at Wofford. I will never understand the challenges they encountered as student-athletes in their daily lives. I want to say to each of you who worked and played beside me, those who came before me, and those who will follow – I see you, I hear you, I value you, and I will be an advocate in the journey towards real change. Furthermore, I am proud to be a member of the SoCon, which has already made a public statement against racism. I would be honored to be a part of any future conversations and actions that pursue justice and equity.
Thank you to the Southern Conference Hall of Fame for bestowing me with this honor. Thank you to my parents and family, the love of my life, my coaches, my trainers, the athletic department, and Wofford College. I have been truly blessed and am humbled and appreciative of this honor.