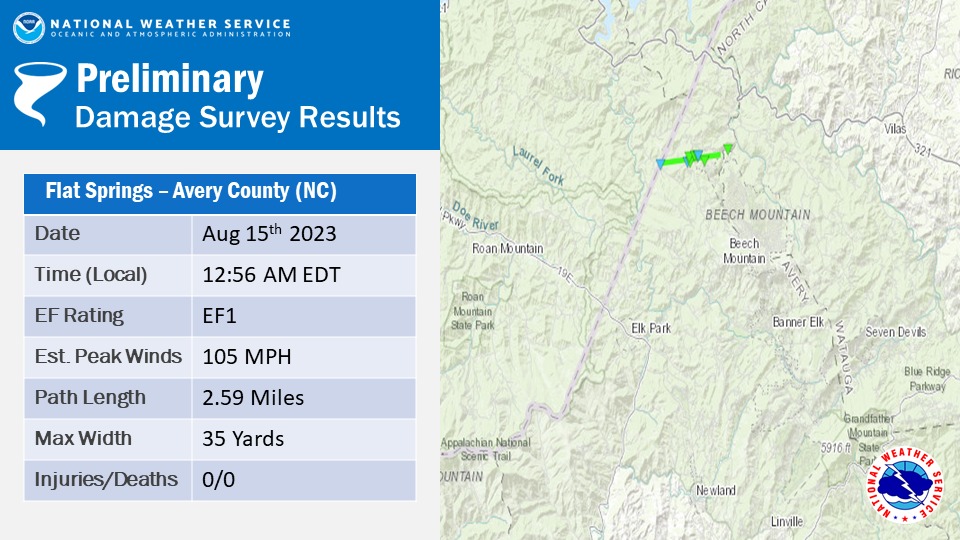 Last Updated on August 16, 2023 6:15 pm
The National Weather Service has confirmed an EF1 tornado touchdown in Avery County early Tuesday.
The tornado tracked through the Flat Springs community in Northern Avery County shortly after midnight, according to the NWS report. Tree damage was observed along Dark Ridge, Joe Parlier, Beech Mountain, Buckeye, and Buckeye Lake Roads.
The path length is listed as 2.59 miles with a path width of 35 yards. The estimated peak winds reached 105 mph.
It's only the second official tornado confirmed for Avery since the database began in 1950.
Below is the official report from NWS:
Public Information Statement
National Weather Service Greenville-Spartanburg SC
534 PM EDT Tue Aug 15 2023
…NWS Damage Survey for 08/15/23 Avery County Tornado…
.20230815_flatsprings…
Rating: EF1
Estimated Peak Wind: 105 mph
Path Length /statute/: 2.59 miles
Path Width /maximum/: 35 yards
Fatalities: 0
Injuries: 0
Start Date: 08/15/2023
Start Time: 12:56 AM EDT
Start Location: 3 SE Elk Mills / Avery County / TN
Start Lat/Lon: 36.2332 / -81.9554
End Date: 08/15/2023
End Time: 01:02 AM EDT
End Location: 2 NW Beech Mountain / Avery County / NC
End Lat/Lon: 36.2373 / -81.9094
Survey Summary: