Last Updated on August 28, 2014 6:45 pm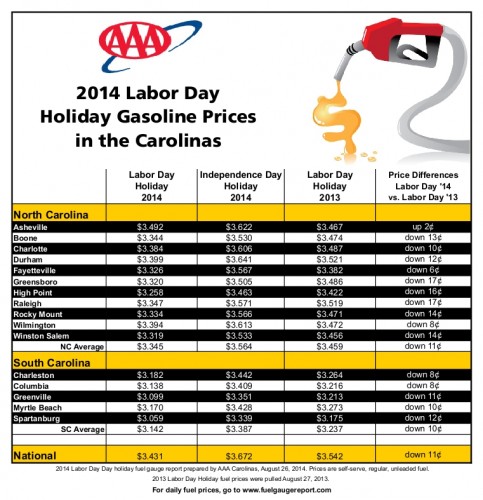 A recovering economy and falling gas prices are contributing to an increase in Labor Day holiday travel for the second straight year for North Carolinians, making it the highest number of travelers in six years, according to AAA Carolinas.
An expected 1,011,718 Tar Heel state residents – a 1.5% increase from
2013 – are expected to travel more than 50 miles from home. Of those travelers, 870,000 (86%) will be driving, while an estimated 81,000 (8%) will be flying.
Labor Day gas prices have fallen 22 cents a gallon since July 4th, allowing consumers to keep more money in their wallets and spend slightly more on food and accommodations. North Carolina's state-wide average is $3.34 per gallon.
"The continued downward trend in gas prices is good news for motorists and it's one of the big reasons travelers are heading out for a final road trip during the last holiday of the summer, as children head back to school," said Dave Parsons, CEO and president of AAA Carolinas.
The most expensive gas in the state is in Asheville at $3.50 and the least expensive is in the Greensboro-Winston-Salem-High Point area at $3.31.
North Carolina motorists will encounter cheaper prices at the gas pump in Virginia ($3.19), Tennessee ($3.20), Georgia ($3.32) and South Carolina ($3.14), which has the lowest average gas price in the country.
The most popular driving destinations for Carolina travelers are Charlotte, Myrtle Beach, Raleigh, Asheville, and Charleston, according to AAA Vacations, the largest leisure travel agency in the Carolinas, which tracks personalized drive trip routes.
Airfares have risen 2% this year, with an average lowest round-trip fare of $219, up from $214 last year, according to AAA's Leisure Travel Index.
Hotel rates for AAA Three Diamond hotels have increased 6% from a year ago with travelers spending an average of $171 per night compared to $161 last year. The average hotel rate for AAA Two Diamond hotels has risen 9% with an average cost of $125 per night.
Car rental rates remain the same as last year at an average of $51 for a weekend daily rate.
North Carolina gasoline prices are 11 cents lower this year than in 2013 and prices that year were down 25 cents a gallon following the price spike in 2012 due to Hurricane Isaac.
Barring a major development, such as a Gulf Coast hurricane, prices are likely to remain low. Despite tensions overseas, U.S. refineries are running at full tilt and there is an abundance of supply.
"Unrest in the Middle East is not expected to push gas prices higher as analysts have assessed the potential for a disruption of oil supply to be limited," said Parsons.
Throughout North Carolina, law enforcement officers will be out in full force for the "Booze It and Lose It" campaign, which started on Aug.15 and runs through Sept.1.
The program includes checkpoints and stepped-up patrols in an effort to remove intoxicated drivers from the roads.
Most construction projects along interstate, N.C. and U.S. routes will be suspended from 4 p.m. Friday, Aug. 29, until 9 a.m., Tuesday, Sept. 2, with these exceptions:
In Raleigh (Wake County), the two lanes of the I-40 West ramp onto I-440 West are reduced to one lane and I-440 East and West will remain in a two-lane pattern between I-40 and U.S. 64/264 as a part of the Fortify project.
I-40 West in Canton (Haywood County) is reduced to two lanes between mile markers 37 and 34 for median work.
U.S. 74 in Waynesville (Haywood County) is reduced to one lane in each direction between mile marker 98 and the Jackson County line for median work.
The N.C. 268 bridge over U.S. 52 in Pilot Mountain (Surry County) is closed for a bridge replacement.
I-73 (Guilford County) is reduced to two lanes in each direction between I-40 and I-85 for a construction of a new interchange with High Point Road.
U.S. 158 (Elizabeth Street) in Elizabeth City is reduced to one lane in each direction from Road Street to the Pasquotank River Bridge for resurfacing and construction of a new bridge.
NC 171 south of Jamesville near Farm Life (Martin County) is reduced to one lane controlled by portable signals for a bridge replacement project.
U.S. 264 near Stumpy Point (Dare County) is reduced to one lane for a bridge replacement project.
N.C. 94 in Fairfield (Hyde County) is reduced to one lane for a culvert replacement project on the Lake Mattamuskeet causeway.
For the latest on construction delays, go to the North Carolina Department of Transportation website, www.ncdot.org. Click on travel & Maps and then on the Traveler Information Management System for up-to-date traffic information related to closed travel lanes, accidents or expected congestion due to special events.
The Labor Day travel period is defined as Thursday, Aug.28, through Monday Sept. 1.
Survey data is taken from AAA's Leisure Travel Index, AAA/HIS Global Insight holiday travel forecast and AAA Carolinas data.
To estimate fuel costs travelers can go to www.fuelcostcalculator.com to input starting city, destination, and the make and model of their car.
The free AAA Mobile app for iPhone and Android devices uses GPS navigation to help travelers map a route, find updated gas prices, view nearby member discounts and access AAA Roadside Assistance.
AAA Carolinas, an affiliate of the American Automobile Association, is a not-for-profit organization that serves more than 1.9 million members and the public with travel, automobile and insurance services while being an advocate for the safety and security of all travelers.
Connect with AAA Carolinas on Facebook at www.facebook.com/AAAcarolinas and follow us on Twitter at @AAAcarolinas.