Last Updated on March 26, 2022 2:28 pm
The Watauga County Board of Education voted unanimously Monday, April 10 to appoint Dr. Chris Blanton Principal of Watauga High School.
Blanton takes the lead at WHS after a rigorous vetting process led by Superintendent Dr. Scott Elliott that Watauga County Schools has used to evaluate candidates for its administrative roles for the past three years.
Blanton, who currently serves as principal at Burns High School in Cleveland County, was selected after a rigorous interview process and thorough background and reference checks.
Elliott spent a great deal of time meeting and talking with students, staff members, and teachers to understand their expectations for the next principal. "I met face to face with teachers during their planning periods," Elliott said. "Student leaders and several classes took time to talk with me. The entire student council met with me. I met with officers of the FFA and talked to student representatives from all over the school to ensure their voices were heard."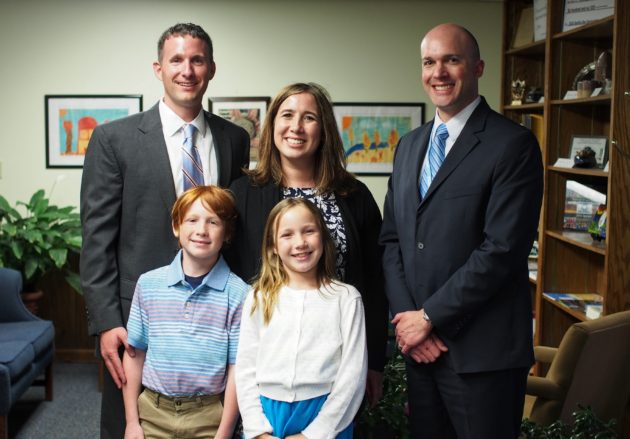 Elliott said considering the voices of the people who would work with the new principal most closely was vital to the hiring process. In all, Blanton went through a five-stage interview process, finally meeting with, or presenting to, over 35 WHS stakeholders. Elliott said the task of finding a person able to take the reins at one of North Carolina's best-performing high schools was not taken lightly.
"It became very clear to me after studying the feedback from our stakeholder groups, that students and faculty at WHS desired a leader who possesses strong interpersonal skills, but who also has a focus on student achievement and quality instruction," Elliott said. "They want a leader who communicates well. Someone who is firm but also approachable and caring — I think we have found the right mix in Dr. Blanton."
Over the course of the search for a new principal, Watauga County Schools received 22 applications for the job. That larger group was narrowed down to five candidates who would interview with multiple committees made up of WHS teachers, parents, students and faculty.
Blanton received a Doctorate in education from Gardner Webb University. He also has a Master's in school administration from Western Carolina and a Bachelor of Science from Appalachian State.
He has experience in the classroom as both a middle school social studies teacher and physical education teacher. His administrative experience includes positions at the elementary, middle, and high school levels. Blanton is also a graduate of the Distinguished Leadership in Practice program of the University of North Carolina. He currently serves as the chairperson of the Southwest Education Alliance Principal Advisory Committee. He has experience as a head coach and assistant in multiple sports at the high school level.
Blanton received high praise from current and former colleagues, including teachers and administrators. Dr. Stephen Fisher, Superintendent of Cleveland County Schools and Blanton's current supervisor, expressed his admiration and confidence in Blanton's future at WHS.
"Dr. Blanton is an exceptional leader that will continue to drive Watauga High School in their pursuit of excellence," Fisher said. "He is service oriented, always putting others and their success at the top of his list. Watauga High School is extremely fortunate to have Dr. Blanton providing guidance and leadership and continuing with the rich tradition of excellence in Watauga County."
Blanton said he was excited to begin his work in Watauga County Schools.
"I have thoroughly enjoyed being a high school principal for the past four years, and my wife and I have always wanted to return to Watauga County to live, work and raise our children," Blanton said. "The commitment to students and Dr. Elliott's leadership have made Watauga County Schools one of the top districts in the state. I'm looking forward to the opportunity to partner with the Watauga High School students and staff as they continue to achieve excellence."
Blanton said that, in addition to the education opportunities available to his family in Watauga County, he also looked forward to the wide variety of recreational opportunities life in the high country provides.
"We enjoy hiking, hunting, fishing, and almost anything outdoors. The area is a perfect fit for us," Blanton said.
Blanton and his wife, Dr. Morgan Blanton, also an ASU alum, have two elementary age children. He currently serves as a Deacon and Sunday School teacher in his church. Morgan is a National Board Certified teacher with certifications in multiple teaching areas. She also is the author of three children's books.
Elliott expressed his confidence that Blanton was the best possible choice to lead Watauga County's only high school.
"Dr. Blanton struck me as a person of great substance with integrity and a big heart for students and teachers," Elliott said. "He has an unassuming personality that set everyone on the interview committees at ease as soon as they met him. He and his wife have two school-aged children, so they will be invested in the success of Watauga County Schools from day one."
Blanton is set to begin his work at WHS July 3.