Last Updated on September 9, 2015 5:01 pm
Downtown Boone has certainly witnessed a few changes in it's history, however one of the most notable changes could be on the way. On Tuesday (September 8, 2015) during the Downtown Boone Development Association board meeting, developers John Winkler and Kenneth Wilcox gave their proposal of a parking deck/retail/housing facility to occupy the space boarding King, Water and Howard Streets.
Residents and college students in the area during the late 1990's and early 2000's may recall that location as the site of the local bars Mike 'N Willies, BooneDocks and The Spot, of which the writer of this article and owner of WataugaRoads.com was a house DJ at during that time. Since the closing of the last of those three bars in the early 2000's, the building has been a multi-business site.
Jason Gaston of Valor Engineering updated WataugaRoads.com with details regarding the project on Wednesday. The parking deck would be an open lot with kiosks for more than 400 vehicles. Short term and long term parking would be available. Bicycle parking and electric vehicle charging stations would also be available. The parking kiosks would be managed by McLaurin Parking Company, the company that for recent years has managed parking in downtown Boone. Gaston adds that the building would include retail space on the bottom floor and approximately 70 multi family bedrooms on the upper floors.
As far as the height of the structure, Gaston says that along King Street it would be be four stories and increase to five stories above Howard Street. WataugaRoads.com has reached out to John Winkler of the Winkler Organization for a comment and will update as more information is available.
Virginia Falck, Downtown Coordinator Town of Boone Department of Cultural Resources, shares with WataugaRoads.com "In general, the DBDA board is accommodating to the proposal and are looking forward to watching this project unfold."
Rendering courtesy of Valor Engineering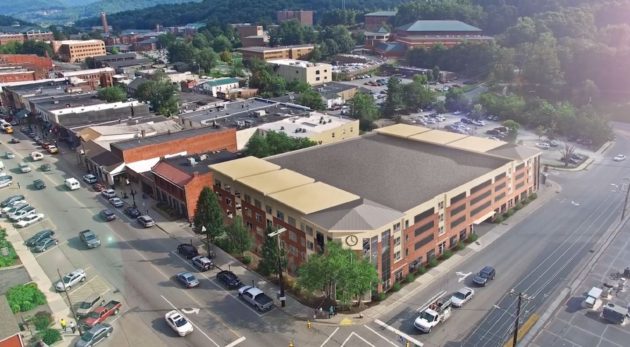 Boone NC Welcome Center (Drone + Architectural Rendering) from SOUTH on Vimeo.