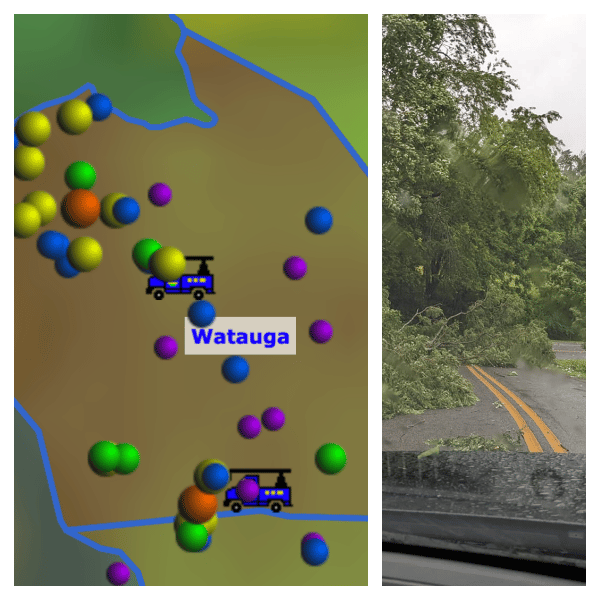 Last Updated on June 22, 2022 9:04 am
Severe warned storms resulted in downed trees and power outages in Watauga County late Friday afternoon and into the early evening.
A Thunderstorm Watch was issued by the National Weather Service (NWS) at 1:22pm. At 3:37 pm NWS issued a Severe Thunderstorm Warning that included 60 mph wind gusts and quarter size hail.
The first report of trees down, per scanner dispatches, occurred shortly after 4pm. Power outages quickly followed.
According to the Blue Ridge Energy outage map at the time, 1,119 members were without power at 4:14 pm, that grew quickly to:
1124 at 4:17 pm
1203 at 4:19 pm
1663 at 4:21pm
1749 at 4:25pm
1751 at 4:26pm
1753 at 4:29pm.
1780 at 4:35pm
1782 at 4:38pm
1787 at 4:39pm
1788 at 4:41pm
1790 at 4:43
1792 at 4:46pm
1794 at 4:48pm
1856 at 4:50pm
1857 at 4:53pm
1859 at 4:55pm
1866 at 4:58pm
The outages dropped to 793 at 5pm but rose to 891 at the time this article was published at 5:50pm. Power was also knocked out in sections of Boone, leading to several traffic lights flashing for a time. NCDOT was still working on the situation at the time this article was published.
A NWS report of radar indicated hail of less than .75 inch in diameter occurred at 4:46pm.
The Twitter feed for Watauga Online published scanner dispatches of at least 7 trees down as they were reported.
Incoming reports via Twitter included: