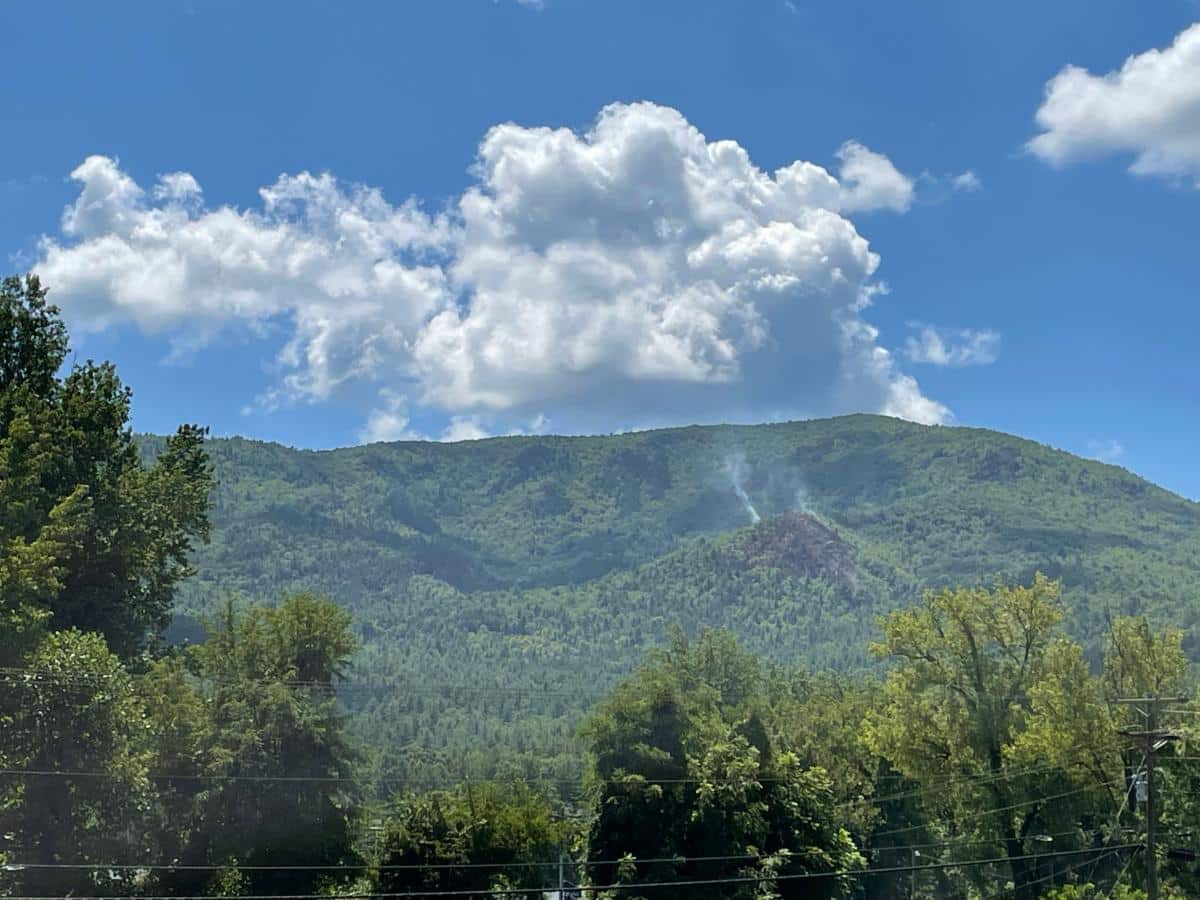 Last Updated on August 4, 2023 1:16 pm
Nebo, NC – August 3, 2023 – Fire activity on the Dobson Knob #2 Fire is minimal as significant rainfall spreads across the area. The fire remains at 10 acres and is now 50% contained.
Fire activity moderated over the past 48 hours, as humidity increased, and the fire spread into areas with in-tact tree canopy and less receptive fuels. The fire has consumed much of the large, downed fuels on the rocky knob. While the perimeter of the fire remained active prior to the rain event, fire spread has been minimal. Significant rainfall overnight has extinguished any active flames, however, hotspots remain.
Yesterday, firefighters completed re-establishing firelines from the Dobson Knob (2017) and Bald Knob (2015) fires and are transitioning to monitoring status today. Firefighting efforts are helped by the wet, soaking rain. In order to fully extinguish remaining hot spots, a soaking rain over several days is needed. Even with a long-term rainfall event, there is still potential for large burning logs to hold heat and re-ignite when conditions dry. Fire managers will be monitoring rainfall amounts over the fire area through the weekend.
The Dobson Knob #2 Fire was reported Friday afternoon, July 28, 2023. The fire began from a lightning strike and is burning in McDowell County on the north side of Dobson Knob near the North Cove Community, north of Marion, NC and west of the Linville Gorge Wilderness Area. In order to protect public and firefighter safety, trail closures remain in place for the Mountains to Sea Trail from the north fork of the Catawba River to Dobson Knob Road (FSRD #106) on the west side of Linville Gorge.
Additional updates will be made available if conditions change to allow trails to reopen. The containment is expected to remain at 50% over the coming days until fire managers can determine if rain fully extinguishes hot spots. Due to the remote nature of the fire, no direct actions have been made to create firelines on the perimeter of the fire. All fire lines are reestablished contingency lines, placed further out from the fire area for protection if the fire were to increase in size. This strategy reduces resource impact from new fireline construction. Unless conditions change, fire managers are not expecting a significant increase in the fire size.
The fire is burning primarily on USFS lands with a small portion on private. 15 firefighters from the U.S. Forest Service, North Carolina Forest Service, McDowell County Emergency Management, and the North Cove Volunteer Fire Department are responding.