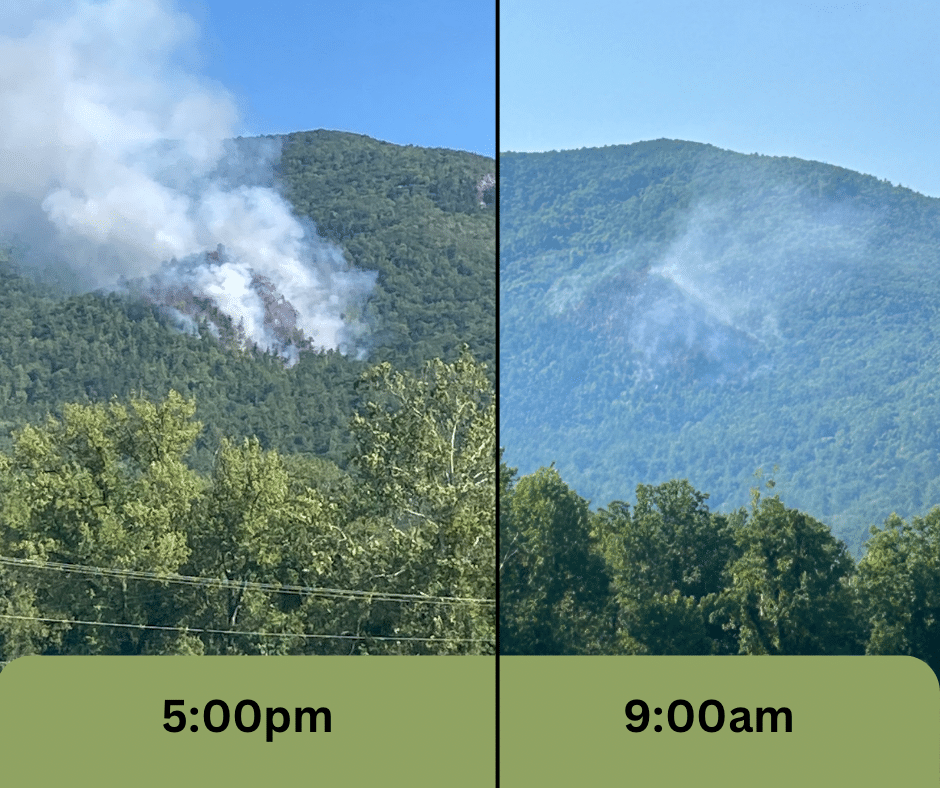 Last Updated on August 1, 2023 7:22 pm
Nebo, NC – August 1, 2023 – The Dobson Knob #2 Fire is now estimated at 10 acres. Hot, dry afternoon weather has increased fire behavior allowing the fire to slowly grow along the rocky slopes below Dobson Knob. The fire remains 25% contained.
The Dobson Knob #2 Fire was reported Friday afternoon, July 28, 2023. The fire began from a lightning strike and is burning in McDowell County on the north side of Dobson Knob near the North Cove Community, north of Marion, NC and west of the Linville Gorge Wilderness Area.
Yesterday, firefighters continued establishing contingency firelines to the east and south of the fire area. Today, firefighters will continue to improve these lines, refreshing areas established in the Bald Knob Fire (2015) as well as along neighboring prescribed fire units. Three prescribed fire units border the fire area, which have helped firefighters with access and containment.
In order to protect public and firefighter safety, trail closures remain in place for the Mountains to Sea Trail from the north fork of the Catawba River to Dobson Knob Road (FSRD #106) on the west side of Linville Gorge. Communities in the North Cove, Woodlawn, and Linville Falls Communities may experience smoke. Smoke is expected to be heaviest overnight and in the morning areas as it settles in low lying areas. Travelers along 221N should use caution.
The fire is burning primarily on USFS lands with a small portion on private. 20 firefighters from the U.S. Forest Service, North Carolina Forest Service, McDowell County Emergency Management, and the North Cove Volunteer Fire Department are responding.