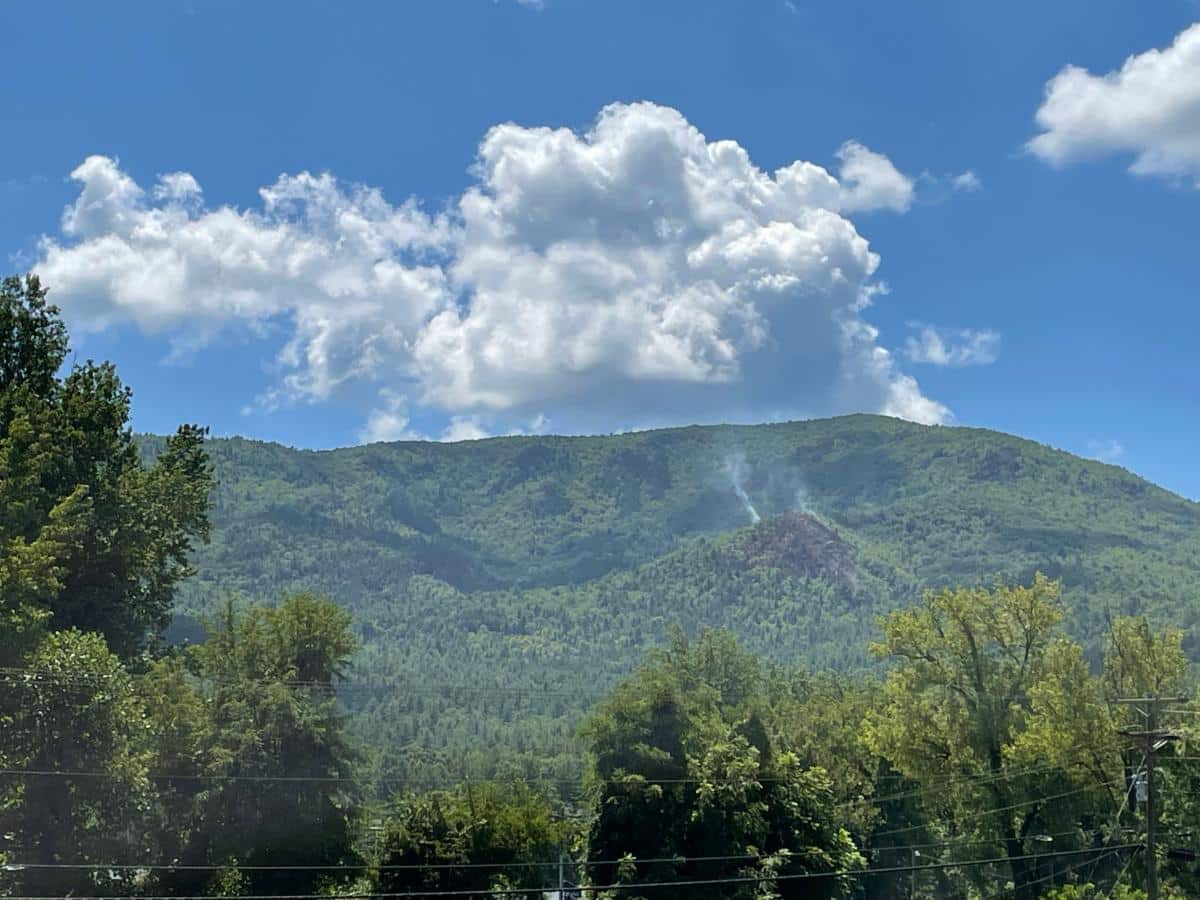 Last Updated on July 31, 2023 2:48 pm
Nebo, NC – July 31, 2023 – The Dobson Knob #2 Fire grew to 8 acres and is now 25% contained. The wildfire was reported Friday evening, July 28, 2023 and is burning in McDowell County on the north side of Dobson Knob near the North Cove Community, north of Marion, NC and west of the Linville Gorge Wilderness Area.
The fire area received minimal rainfall overnight Saturday and is continuing to burn with low intensity along a dry ridge. On Sunday, firefighters scouted on-site conditions. The area the fire is burning in is a rocky knob where there is a large amount of dry, receptive fuels that built up in an area that was burned with high intensity in the Dobson Knob Wildfire (2017). However, surrounding the knob, the forest has intact canopy and less receptive fuels. The forest canopy increases the on-site humidity and helps slow the movement of the fire. On-site reconnaissance also confirmed the site as generally inaccessible for direct suppression with on-the-ground resources due to safety concerns.
The fire is being managed for multiple objectives. Primary objectives are for firefighter and public safety, as well as protection of private property. Firefighters are also managing for resource benefit by fuel reduction. Fire suppression actions are focused on the western edge of the fire, which is the area closest to private property and structures within the wildland-urban interface in the North Cove community. A helicopter completed several water-drops on the western edge of the fire Sunday afternoon to slow progress towards private property.
Firefighters worked to re-establish firelines to the north and west over the weekend and are continuing today to the east and south of the fire area. These contingency lines were established in the Dobson Knob Fire (2017) and Bald Knob Fire (2015). Three prescribed fire units south and east of the fire area are also allowing for improved access and containment.
In order to protect public and firefighter safety, trail closures remain in place for the Mountains to Sea Trail from the north fork of the Catawba River to Dobson Knob Road (FSRD #106) on the west side of Linville Gorge. Communities in the North Cove, Woodlawn, and Linville Falls Communities may experience smoke. Smoke is expected to be heaviest overnight and in the morning areas as it settles in low lying areas. Travelers along 221N should use caution.
The fire is burning primarily on USFS lands with a small portion on private. 20 firefighters from the U.S. Forest Service, North Carolina Forest Service, McDowell County Emergency Management, and the North Cove Volunteer Fire Department are responding. By reviewing lightning strike data, fire managers and local emergency managers were able to determine a lightning strike as the likely ignition source.
The Dobson Knob #2 Fire on July 31, as seen from Highway 221 north of the Woodlawn community. Photo Credit: Lisa Jennings, USFS