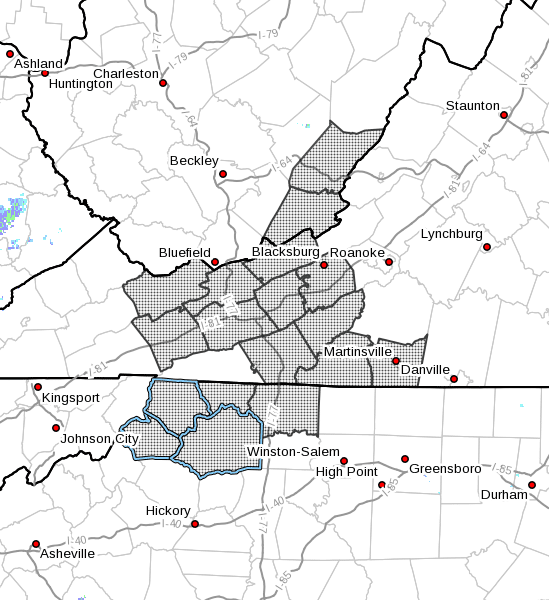 Last Updated on August 27, 2022 8:09 am
NCZ001>003-018-019-VAZ007-009>014-016-017-032-043-WVZ044-507-
271400-
/O.NEW.KRNK.FG.Y.0006.220827T1150Z-220827T1400Z/
Ashe-Alleghany NC-Surry-Watauga-Wilkes-Tazewell-Smyth-Bland-Giles-
Wythe-Pulaski-Montgomery-Carroll-Floyd-Patrick-Henry-Monroe-
Eastern Greenbrier-
Including the cities of West Jefferson, Sparta, Dobson, Boone,
Wilkesboro, Tazewell, Marion, Bland, Pearisburg, Wytheville,
Radford, Pulaski, Blacksburg, Galax, Floyd, Stuart, Martinsville,
Union, Lewisburg, White Sulphur Springs, and Alderson
750 AM EDT Sat Aug 27 2022
…DENSE FOG ADVISORY IN EFFECT UNTIL 10 AM EDT THIS MORNING…
WHAT…Visibility less than one mile in dense fog.
WHERE…Portions of north central and northwest North
Carolina, south central and southwest Virginia and southeast
West Virginia.
WHEN…Until 10 AM EDT this morning.
IMPACTS…Hazardous driving conditions due to low visibility.
ADDITIONAL DETAILS…Dense fog was widespread throughout much of
southwest Virginia and northwest North Carolina early this
morning as well as parts of southeast West Virginia. The fog is
most problematic in the valleys and river valleys including the
New River Valley, Greenbrier River Valley, and the Clinch and
Holston River Valleys and the Watauga River Valley in northwest
North Carolina. Widespread visibility of less than 1 mile all
the way down to 0 miles is widespread through these areas
creating hazardous driving conditions.
Conditions are expected to improve after 10 AM EDT this
morning.
PRECAUTIONARY/PREPAREDNESS ACTIONS…
If driving, reduce speed, use your low beam headlights, and leave
plenty of distance between you and the vehicle in front of you.
Allow extra time to reach your destination.