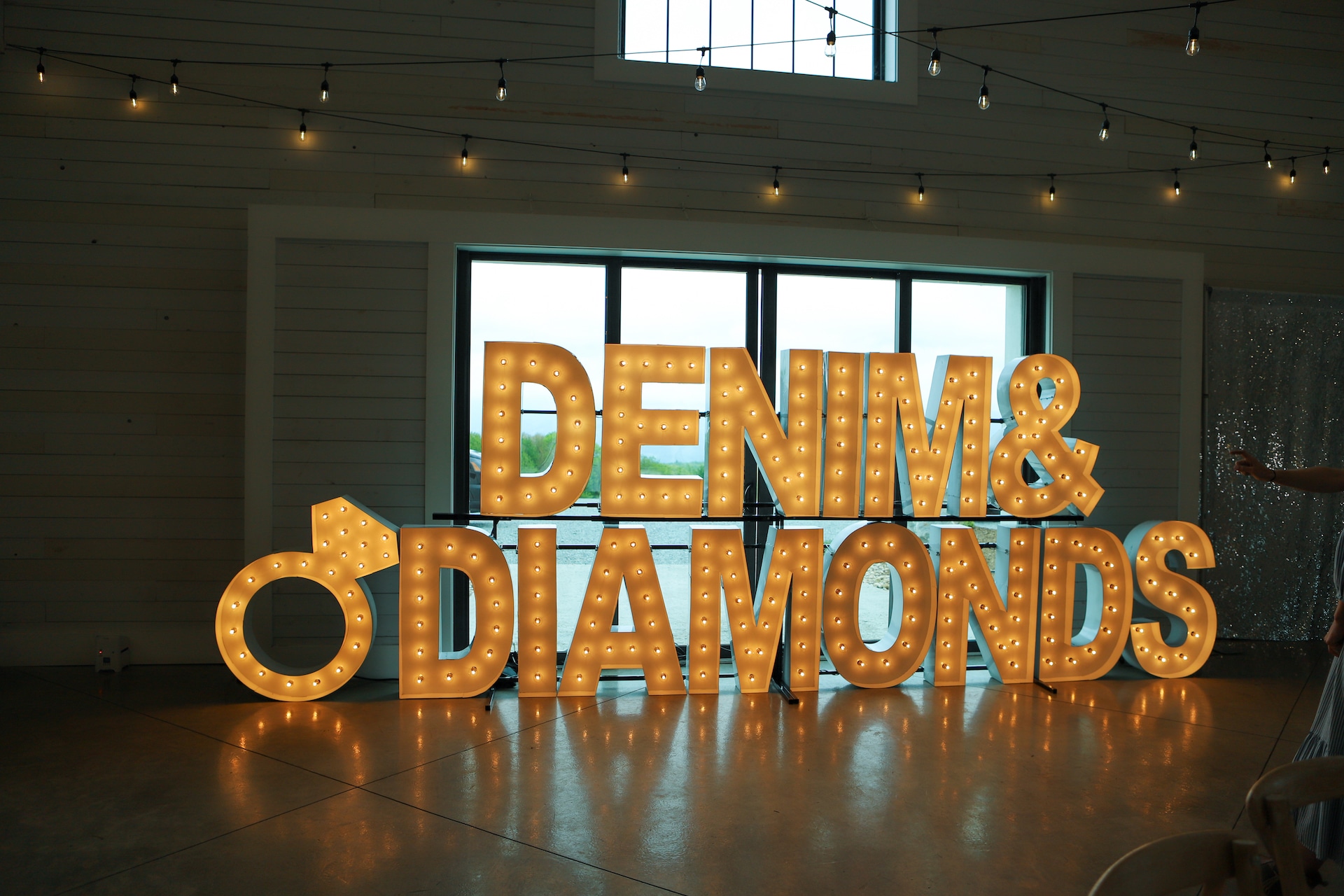 Last Updated on June 5, 2023 8:37 am
BOONE — More than 200 supporters donned their denim best to celebrate and contribute to WAMY Community Action initiatives at Denim & Diamonds 2023 — the second annual charity event and auction raising money for poverty-fighting programs in Watauga, Avery, Mitchell and Yancy counties.
The event was held Thursday, May 18, at the White Crow Farm in Valle Crucis, with a lively auction featuring renowned auctioneer Jesse Miller, of First Security Peak Insurance, who drummed up bids for restaurant certificates, golf and getaway packages, and gifts donated by local businesses. Proceeds from the event will fund summer camp scholarships for children and necessary home repairs for impoverished people in the four-county area.
The dinner, provided by Gadabouts Catering, was followed by dancing to music by DJ Karl of Mohr Fun Entertainment. Wilcox Travel provided shuttle services to and from the event.
Retiring Executive Director Melissa Soto was recognized at the event for her 31 years of service. She was shocked when she learned that the total amount raised for the evening exceeded $87,000. "This is the largest amount raised ever at a WAMY Event! I am so proud of this organization and this community. Denim & Diamonds 2023 was an incredible night to experience," declared Soto.
"We were overwhelmed by the generosity and support of our sponsors and event attendees," said Brittany Luxton, the incoming Executive Director of WAMY Community Action. "The money raised will make such a difference in the lives of those experiencing poverty within our community. WAMY is committed to helping individuals and families in need and donors help us help more people."
Melanie Jirka is WAMY's Community Housing Coordinator. She shared, "White Crow Farm had a stunning venue. The number of attendees and donations were amazing. I had the privilege of running the auction ticket for the item, Sponsor a Home Repair. The bids were constantly increasing! Amber Balduf, WAMY's Housing & Weatherization Auditor, caught my eye and we both began to cry. It was very exciting." Jirka continued, "I got to thank the winning bidder personally for his generous gift and he was so humble about it. It was hard for me to express to him how much we appreciated his generosity. WAMY could not do what we do if it weren't for donations, contractors, volunteers, and people who support our mission. We are all in it together," expressed Jirka.
WAMY Home Repair and Weatherization Program assists low-income households, many comprised of elderly or disabled people who are unable to afford or perform necessary home repairs themselves. "From July 2022 to May 2023, WAMY has been working on repairs in dozens of households," said Jirka. "Affordable and adequate housing is a huge issue in our community, and many low-income families are in unhealthy and unsafe living environments. By repairing dangerous conditions and improving efficiency in our clients' existing homes, we promote economic self-sufficiency. Seniors can age in place and families stay healthier," Jirka stated.
This summer, WAMY is launching its newest Youth program, "Support Our Students" (S.O.S.) — sponsoring children in attending various camps across the region. "Our goal is to maintain safe supervision for school-aged children during the summer months so that their parents and guardians can maintain employment and self-sufficiency," Luxton said.
"Seeing the enthusiasm expressed by attendees at our Denim & Diamonds event was so rewarding. Our work empowers people, and we are so grateful for the support from individuals and businesses in our community," expressed Allison Jennings, WAMY's Director of Development.
About W.A.M.Y. Community Action
Established in 1964, W.A.M.Y. (Watauga, Avery, Mitchell, Yancey) is a Community Action Agency and was the first human-service non-profit to come to the High Country's four-county area. W.A.M.Y.'s mission is to partner with families and communities to provide the disadvantaged with the support they need to become self-sufficient. W.A.M.Y. conducts a community needs assessment every three years and programs are designed according to the needs of the community. Currently W.A.M.Y. has four programs- Youth Development, Food & Nutrition, Housing & Energy, and Total Family Development. To learn more or donate visit wamycommunityaction.org.
About Community Action Agencies
A Community Action Agency (CAA) is a local organization with the mission of reducing poverty through locally designed and delivered programs and services, targeted to the specific needs of the community. CAAs exist in virtually every county in the U.S., numbering more than 1,000 nationwide. Most are private nonprofits, but some are units of local government. They are state-designated but locally controlled, governed by a tripartite board that represents the low-income community, local elected officials, and private and public community stakeholders.