Last Updated on October 25, 2015 10:38 am
UPDATE 4:09pm Monday – The North Carolina Highway Patrol tells WataugaRoads.com that Eric Main, 20, was traveling north on highway 421 when he went left of center and didn't swerve back. Sammy Watson, 46, was traveling southbound, attempted to avoid the collision by going into the other lane, but Main attempted to correct and hit Watson head on. Watson was transported to Watauga Medical Center, while Main was airlifted by WINGS. The condition of either man was not readily available. Charges are pending against Main.
Photo submitted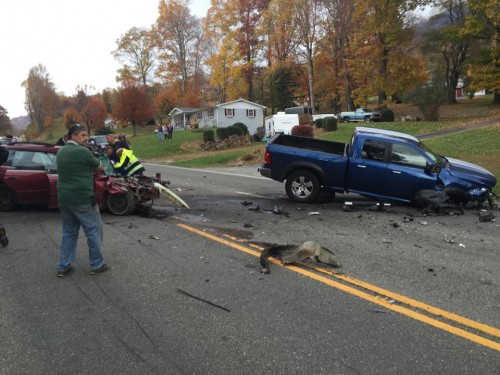 ---
Zionville Fire Department, EMS units and a WINGS helicopter were dispatched to a two car accident on Sunday morning, just after 10:30am. One person was flown out by helicopter according to scanner dispatches at the time. The condition of those involved was not known as of Sunday afternoon. More details coming from NCSHP when available.
---
10:38am – EMS units are on the scene of a two car accident at the intersection of Will Isaacs Road and 421 North. Expect delays in that area as a portion of the road is blocked.
12 noon – The road is back open.
Photo: Greg Johnson