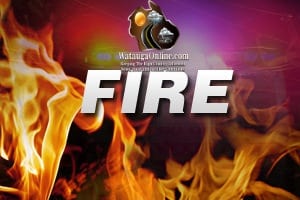 Last Updated on October 19, 2019 2:17 pm
An area woman was found deceased after multiple agencies responded to a structure fire on Tuesday afternoon.
The fire, at 402 Stone Mountain Road, involved a single wide mobile home, according to Watauga County Fire Marshal Taylor Marsh. Marsh tells WataugaOnline.com that a deceased female was found inside by the first responding fire units around 3:15pm.
Damage to the home was mostly to the living room area, with other parts of the home sustaining smoke damage. The fire was put out rather quickly by the first responding units. The cause of the fire was a cigarette, according to Marsh.
Marsh went on to say that the Watauga County Sheriff's Office will release the identity of the woman after results from an autopsy are returned. There were no other reported injuries.
Beaver Dam Fire, Cove Creek Fire, Fall Creek Fire (Avery County), Watauga Medics, Watauga Rescue, Watauga Emergency Management and Watauga County Sheriff's Office all responded to the scene.