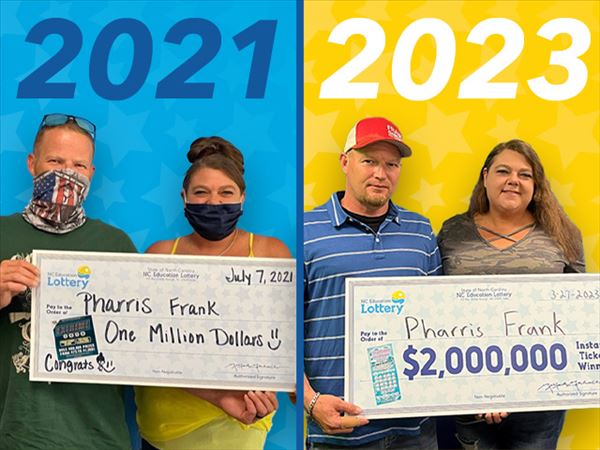 Last Updated on March 30, 2023 8:56 am
After celebrating a $1 million lottery win in July of 2021, Pharris Frank of Advance recently doubled his previous prize by winning $2 million on a $20 scratch-off.
"I called my wife and told her, 'I did it again,'" Frank laughed.
Frank, 41, works in construction and, while working out of town, he bought his lucky $2,000,000 Diamond Dazzler ticket from Handy House on Arendell Street in Morehead City.
"It's cool because the first time I won it was two miles from my house and this time I was four and a half hours away," Frank said. "What are the chances of me being down there at that exact moment in time?"
Frank said he had a feeling he would win big again.
"It's crazy because the day before I won, my buddy was asking me how it felt to win $1 million," he recalled. "And I told him that I was going to double it."
Despite predicting the win to his friend, Frank still had trouble believing it.
"I didn't know if I was dreaming or not," he said. "I was just in shock for a while."
When Frank arrived at lottery headquarters Monday to collect his prize, he had a decision to make. He could choose to receive the prize as an annuity of $100,000 over 20 years or a lump sum of $1.2 million. He chose the lump sum and, after required state and federal tax withholdings, took home $855,006.
His first big win helped to pay for his dream wedding. After this win, he said he wants take his wife on a nice vacation.
The N.C. Education Lottery's Play Smart™ program educates and empowers North Carolinians to make smart decisions when they play the lottery. March is Problem Gambling Awareness Month and the lottery highlights Play Smart to help ensure when North Carolinians play the lottery it doesn't become more than a game. Visit nclottery.com/PlaySmart to learn how the Play Smart program helps someone create a game plan to keep lottery play fun. If you or someone you know needs support, visit morethanagame.nc.gov/ for free, confidential help.