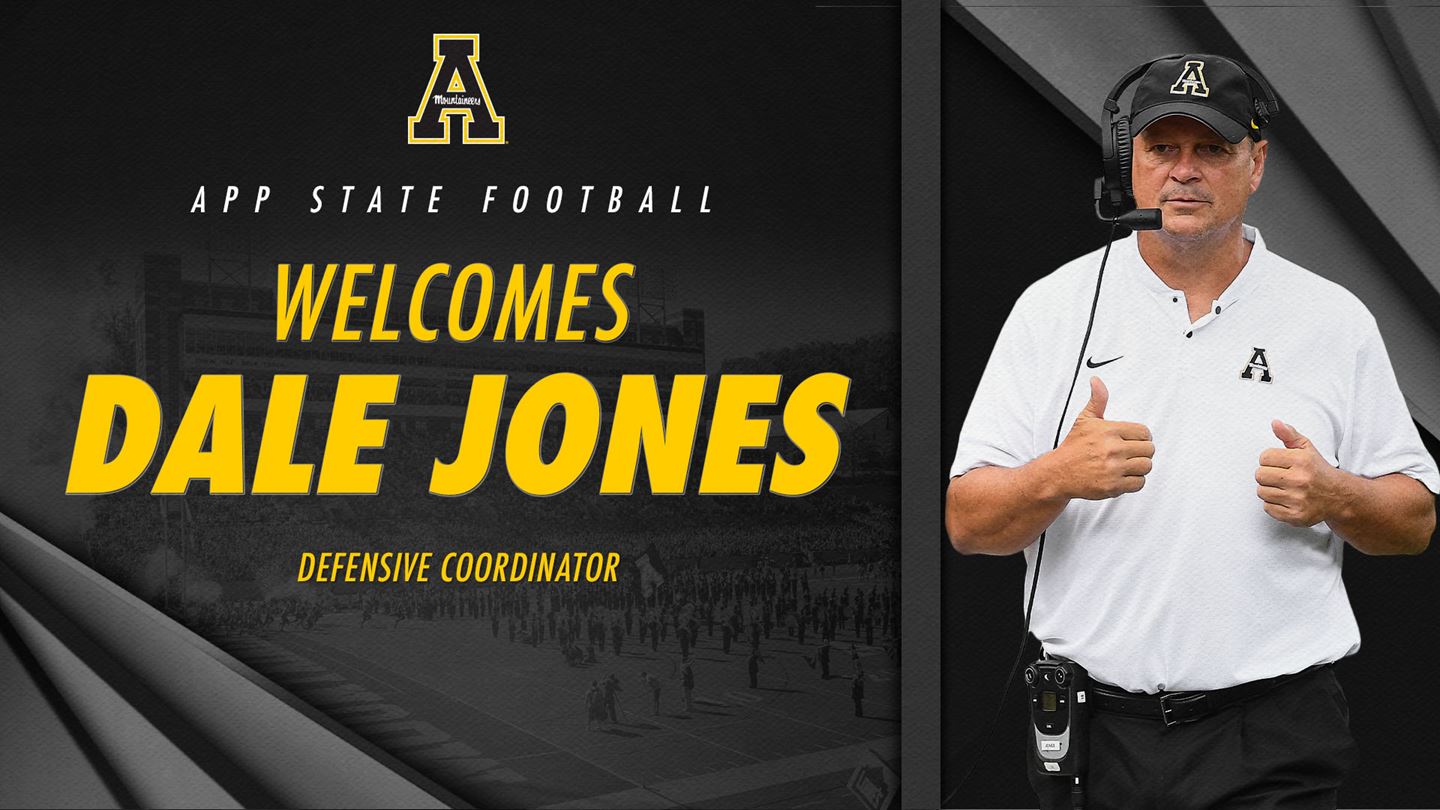 Last Updated on January 15, 2020 5:45 pm
BOONE, N.C. — Longtime App State assistant coach Dale Jones is returning to the program as defensive coordinator, head football coach Shawn Clark announced Wednesday.
Jones coached at App State for 23 seasons from 1996-2018 before following head coach Scott Satterfield to Louisville, where the Cardinals completed an 8-5 season with a victory against Mississippi State in the Music City Bowl.
"We're excited to welcome Dale, Heather, Brooke and Cooper back to where Dale's heart is here in the mountains of North Carolina," Clark said. "He loves App State Football and knows what it takes to win championships here. Under his leadership, we will continue to develop a championship-level defense that has been one of the hallmarks of this program."
Jones, who coached Louisville's inside linebackers in 2019, worked with the same position group in his last five seasons with the Mountaineers. He coached the inside linebackers and served as co-defensive coordinator in 2018, when an App State team that went 11-2 ranked among the FBS leaders in scoring defense (No. 4, 15.5 points) and total defense (No. 6, 288.0 yards).
During the coaching transition, Jones served as the Mountaineers' defensive coordinator for a 45-13 win in the 2018 R+L Carriers New Orleans Bowl against Middle Tennessee, which committed two turnovers, was sacked six times and was held to 62 rushing yards on 45 carries.
"I'm thrilled to be back at App State where I've spent 23 of the last 24 years," Jones said. "I love the culture of App State and love this community. I can't wait to help build a great staff, hit the recruiting trail and continue to bring my aggressive style of play to the field."
Arriving in Boone in 1996, Jones was App State's defensive line coach and special teams coordinator for his first nine seasons with the program. In 2005, he began an eight-year stint as the Mountaineers' linebackers coach and was also the program's defensive coordinator for three seasons from 2010-12. He once again directed App State's defensive line in 2013 before taking over the inside linebackers in 2014.
Player development was a staple of Jones' first 23 seasons at App State, as he coached 11 All-America defensive linemen and linebackers, including five two-time honorees. He also coached 22 all-conference performers who earned the recognition a total of 36 times, with four of his players being named the Southern Conference's Defensive Player of the Year: Josh Jeffries (2002), K.T. Stovall (2003), Jacque Roman (2008) and Jeremy Kimbrough (2012). In 2018, inside linebackers Jordan Fehr and Anthony Flory were first- and second-team All-Sun Belt performers, respectively.
Twelve players that Jones coached previously at App State went on to play in the National Football League.
During his three-year tenure as App State's defensive coordinator, the Mountaineers led the SoCon in interceptions twice (2011 and 2012) and also topped the league in sacks (2011), red-zone defense (2011) and third-down-conversion defense (2010). While serving as App State's special teams coordinator, Jones was named the 2002 Special Teams Coordinator of the Year by American Football Monthly.
One of the most popular and decorated players in University of Tennessee history, Jones was an All-American and a two-time All-SEC performer as a linebacker for the Vols from 1983-86. He is best known as the defensive leader of UT's 1985 squad, which won the SEC championship and stunned No. 2 Miami by a 35-7 score in the 1986 Sugar Bowl. Jones' fourth-quarter interception of Alabama's Mike Shula to seal the Vols' 16-14 win over the Crimson Tide remains one of the most memorable moments of Tennessee's run to the 1985 SEC title.
Jones graduated from UT in 1988 and began his coaching career as an assistant under legendary head coach Johnny Majors at his alma mater in 1989. He went on to serve one-year stints with the Parma Panthers of the Italian American Football League (1990) and the University of Florida (1991) before a five-year tenure at Georgia Military College, where he served as defensive coordinator for four seasons.
Jones and his wife, Heather, have two children: a daughter, Brooke, and a son, Cooper.